October 8- November 6, 2016
Opening reception Saturday October 8th, 6-10pm

Rooms 1 & 2:
Alanah Luger-Guillaume & Rebecca Spangenthal
LEMON LOVERS

Gallery performance by Rebecca Spangenthal as ISLAND QUEEN SATANS FLOWER at 9pm

Rebecca Spangenthal is a Minneapolis-based artist, educator and arts administrator. She is a co-founder and co-director of The White Page gallery, studio and residency program. Rebecca attended Pratt Institute where she graduated with a BFA in 2012. Her personal practice deals in color comparisons, placement, and texture, and how they manipulate the viewer's eye. Using industrial materials and objects, her aesthetic balances between lowbrow construction and formal compositions. She has an ongoing intrigue with creating flattened 3 dimensional works that act both as paintings and as sculptures. She has recently adapted a musical project called Island Queen Satans Flower and has shown work in New York, Minneapolis, Massachusetts and now New Orleans.

Originally from Connecticut, Alanah Luger-Guillaume is a Minneapolis-based painter. Alanah attended Alfred University where she graduated with a Bachelor of Fine Arts in 2010. She co-founded The White Page gallery, studio, and residency program in 2013. She enjoys the balance between arts administration and her personal practice. Alanah has shown her work at multiple artist-run spaces in the Twin Cities such as Future Presence, Tuck Under Projects, and Yeah Maybe. Her practice is focused on the interplay and layering of color, patterns, and shapes.

LEMON LOVERS by Alanah Luger-Guillaume

citrus flavors on a tongue
shocking, juicy, bright
dying rainbows, work is fun
navigating light
thrift store fabric, patterns flung
over all that's white
poems about art are sung
the goal to delight
Rooms 3 & 4: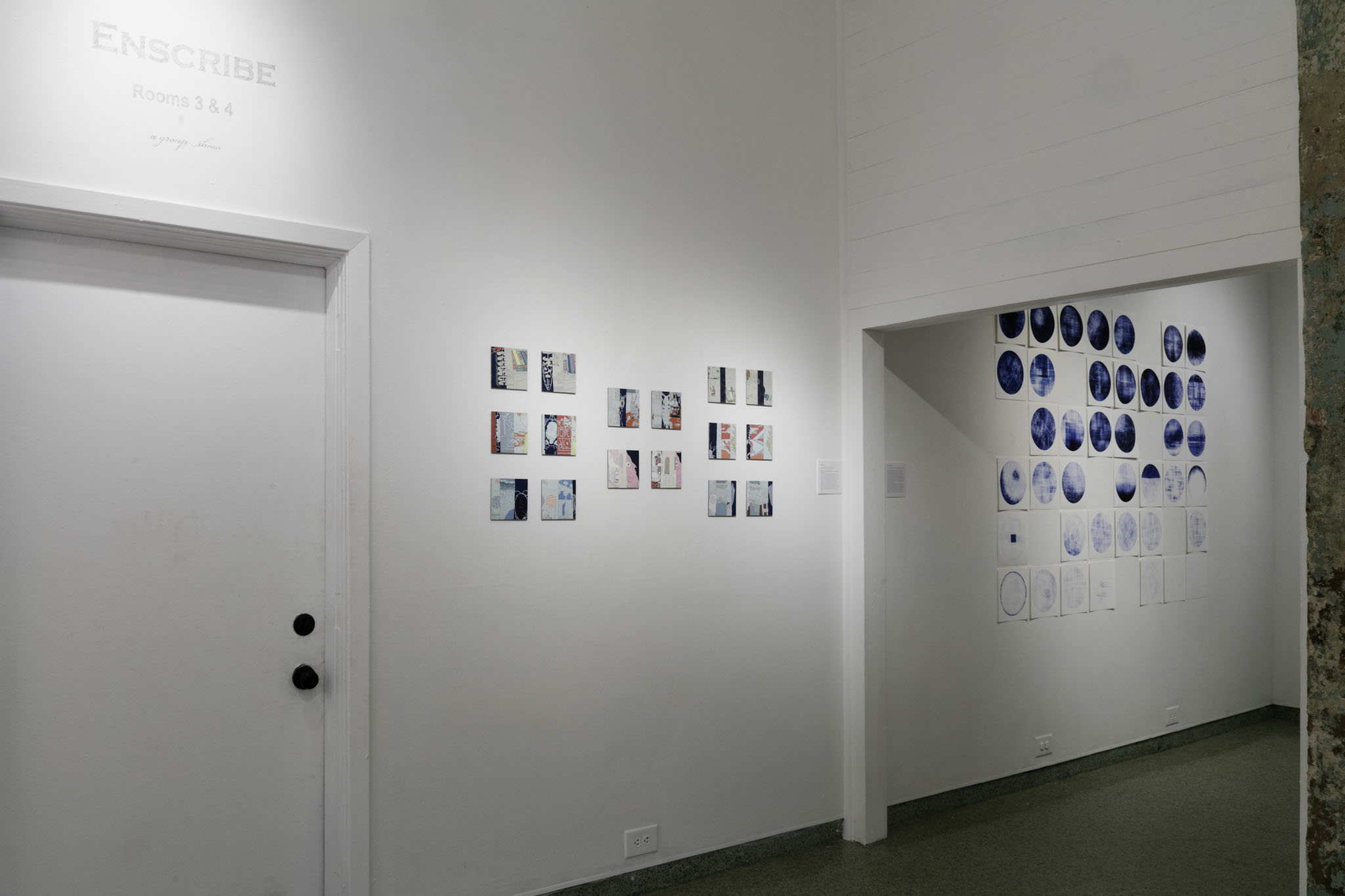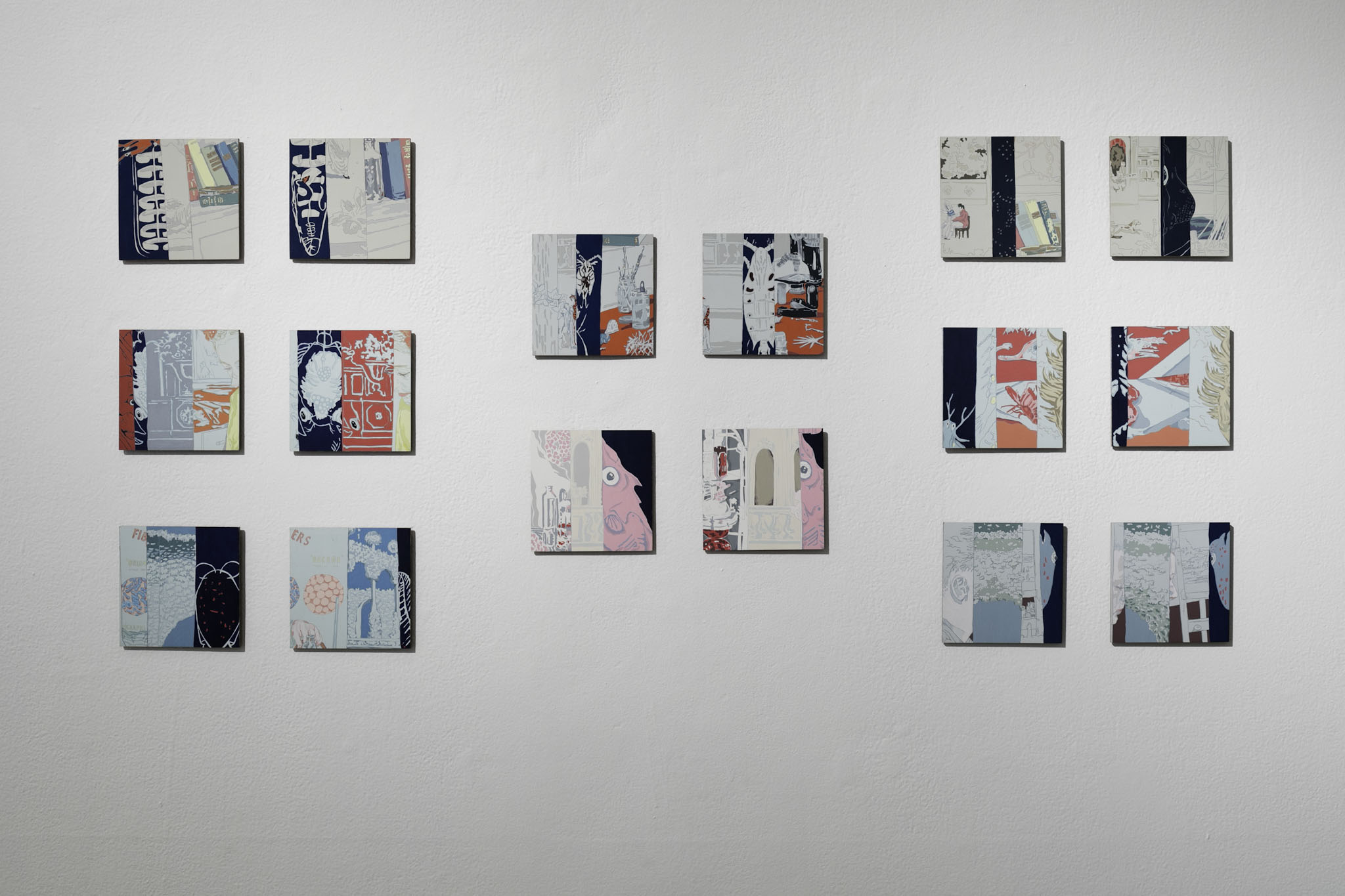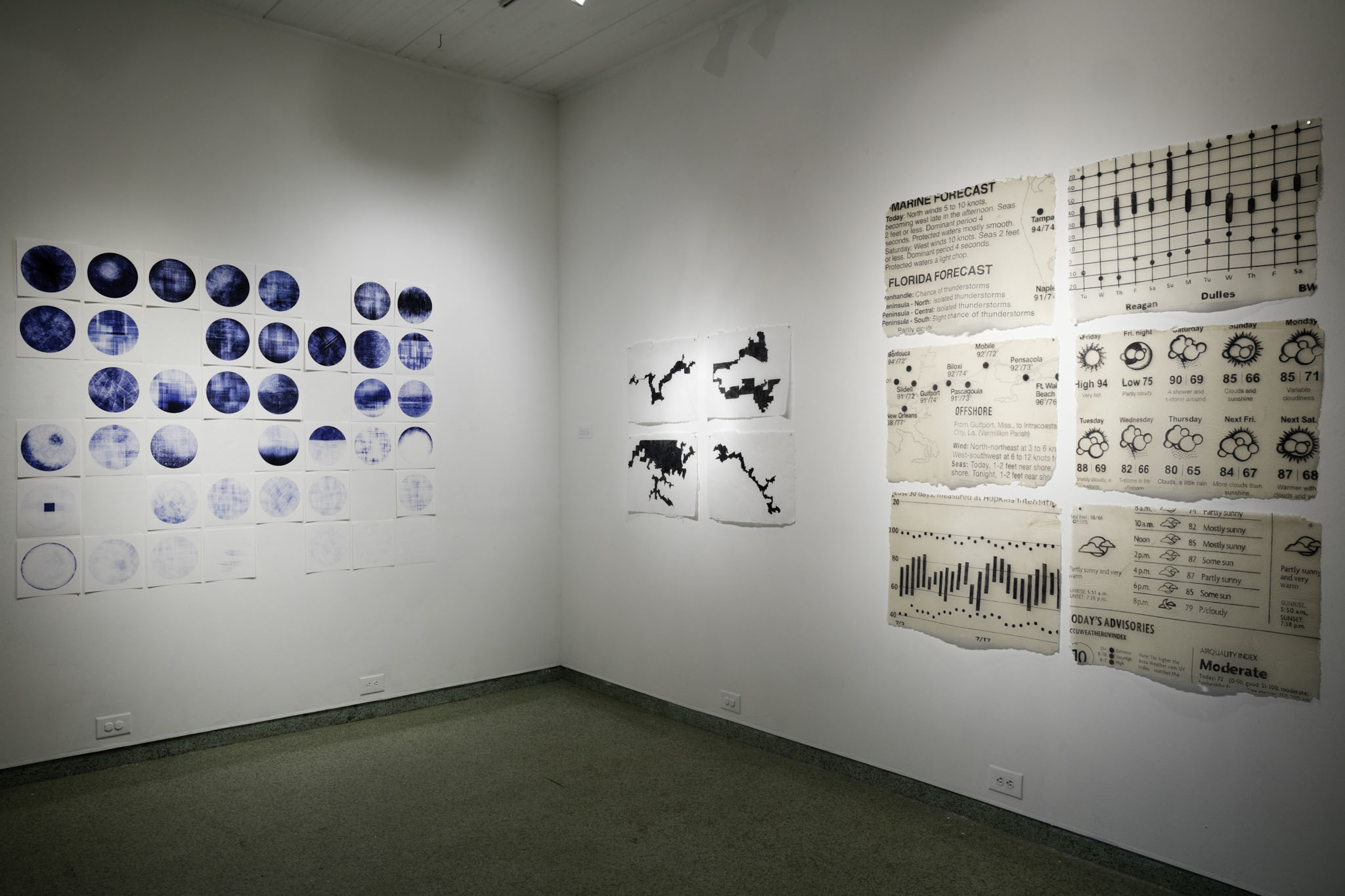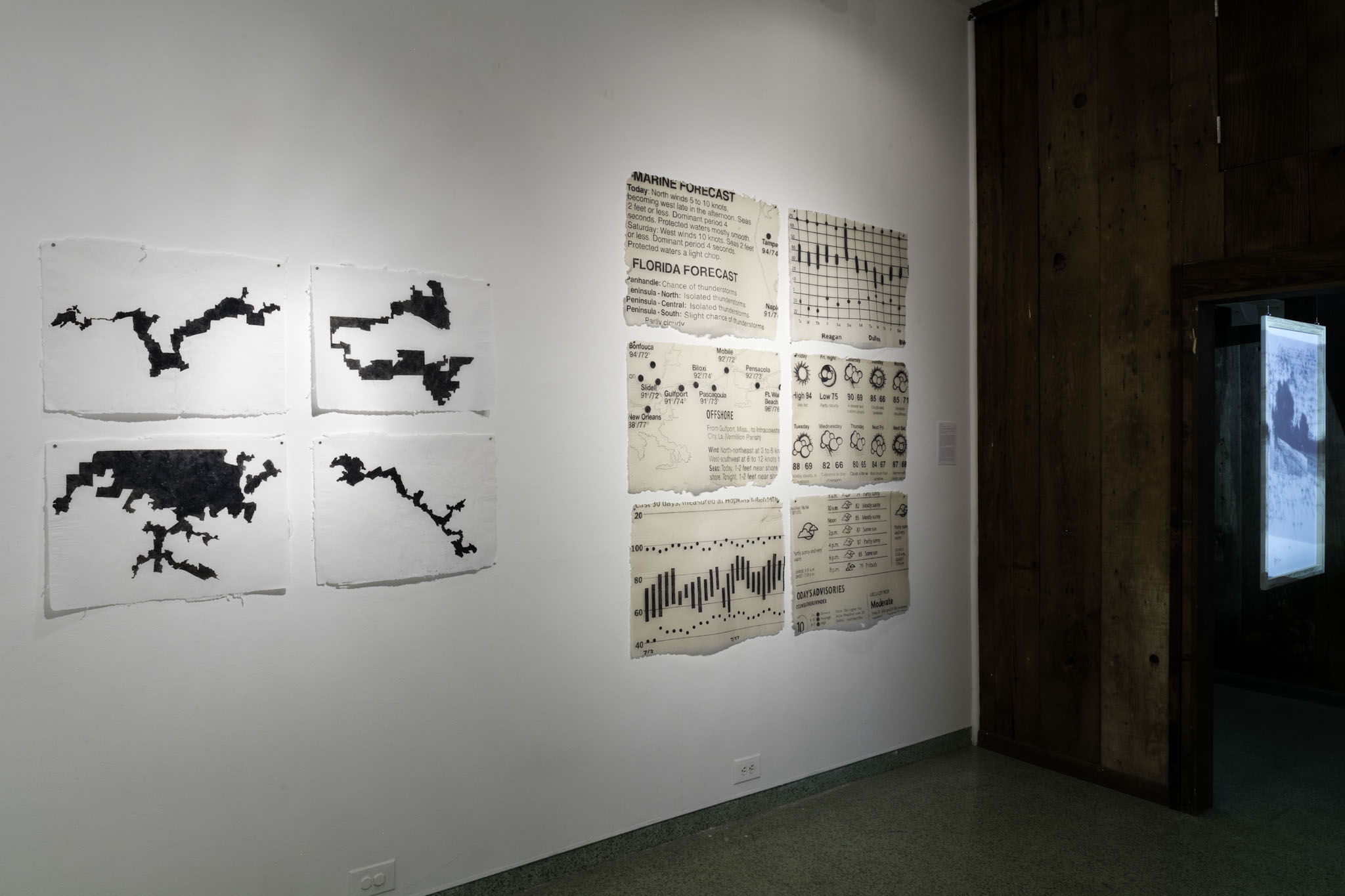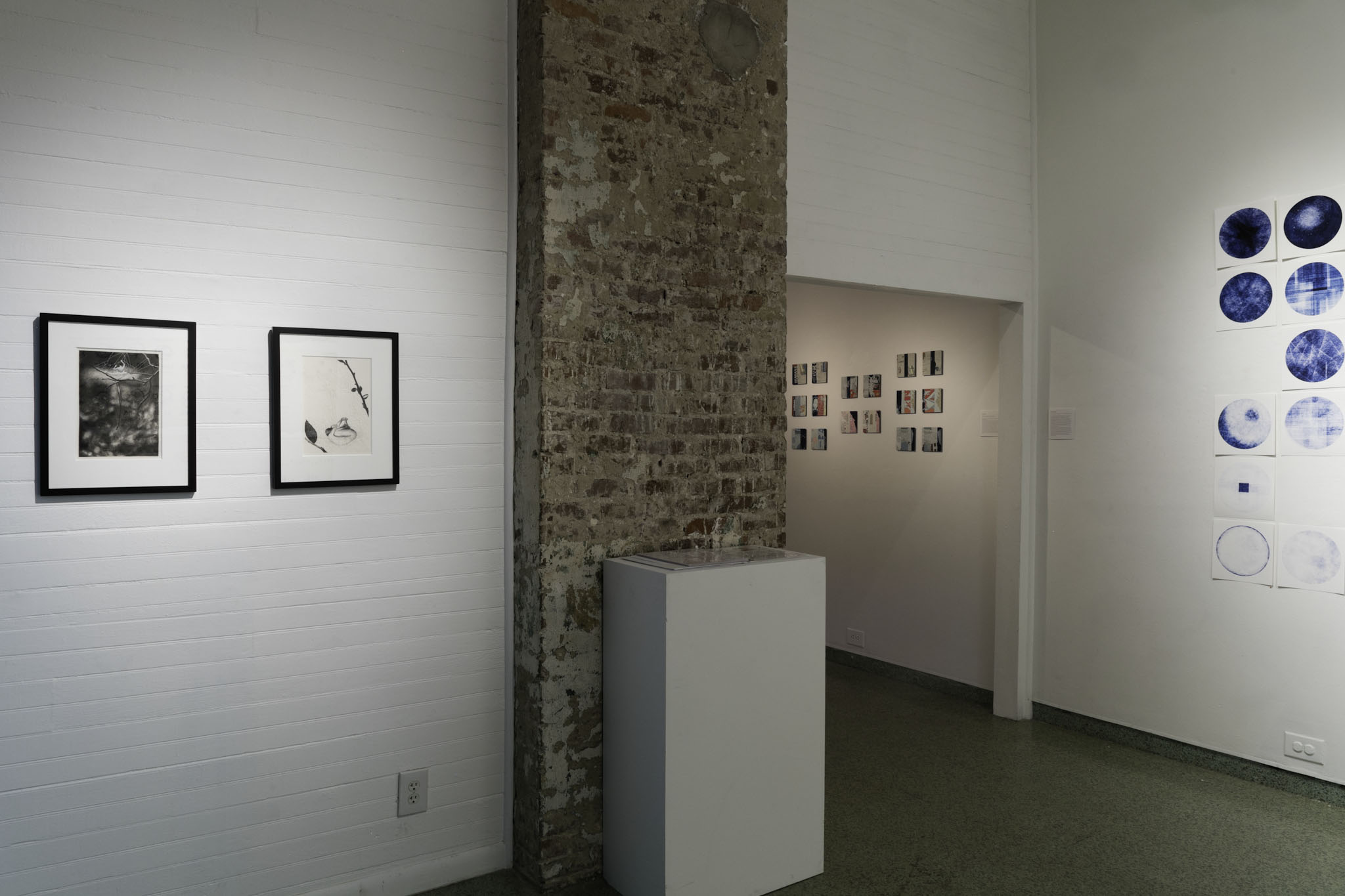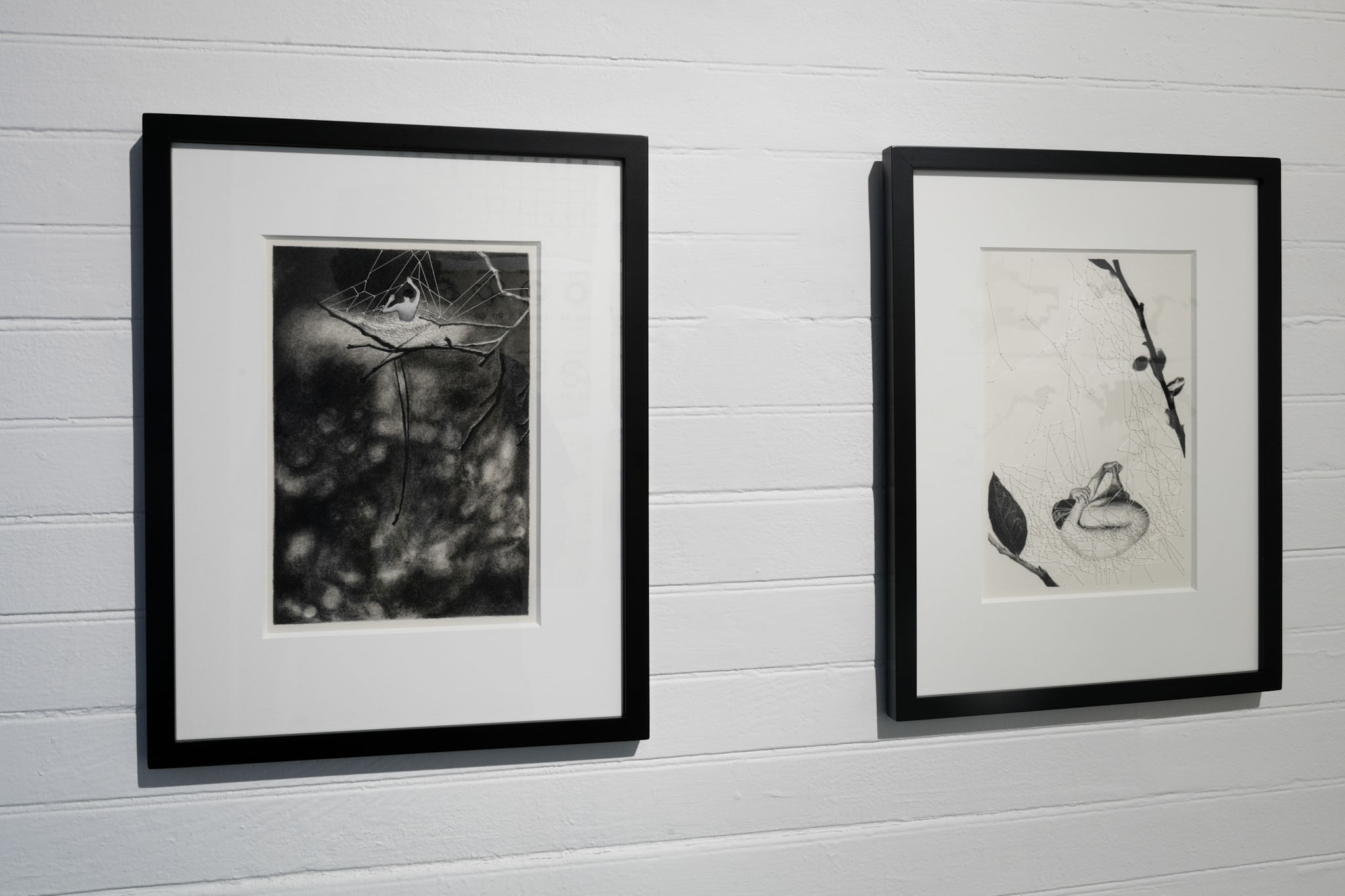 Enscribe, a group show of drawing, photography, and painting explores processes of memory, inscription, entanglement and the ways life and loss write themselves indelibly into us. Curated by Lee Deigaard.

Featuring:

John Powers
Jina Valentine
Elizabeth Stone
Norah Lovell
Ann Schwab
Lee Deigaard
Karoline Schleh & John Seefeldt

ARTISTS:

Ann Schwab:
Statement:
My photo-based work investigates our human process of coping with physical and emotional trauma– physical wounds often acting as metaphors for emotional ones. Nature and natural forms play a vital role in my work, as I both parallel our healing methods with those of the natural world and explore the curative power of the natural environment.

The natural environment plays a role as a medicament as well. The beauty of nature functions as a root of strength, resurrecting the spirit. The existence of beauty is tenuous. The existence of the fragile natural world is a testament to its resiliency and power.

I enjoy the puzzle of creating relationships between seemingly disparate elements. Through multiples or installation, by pairing photographs with audio, sculptural objects or adding mixed media, conversations emerge between components, changing or amplifying the meanings of singular parts.

Bio:
Ann Schwab works in photography, mixed media and installation, creating works that utilize nature and natural forms– as well as medical instruments– to explore our human processes of coping with physical and emotional trauma. She received her B.F.A. from the Maryland Institute College of Art, an M.F.A. from Tulane University and has studied at SACI in Florence, Italy. She has been the recipient of numerous awards including: a Maryland State Arts Council Fellowship, a Louisiana Division of the Arts Fellowship, a Surdna Foundation Fellowship and professional development grants from the Louisiana Cultural Economy Foundation, the Creative Capital Foundation, the Louisiana Division of the Arts, Anderson Ranch and the Surdna Foundation. Ann Schwab's work has been reviewed in publications such as Art Papers, New Orleans Art Review and the Kansas City Art Review. Her works have been exhibited nationally and internationally and are held in corporate, public and private collections. Ann Schwab is Assistant Chair of Visual Arts at the New Orleans Center for Creative Arts, where she is on the teaching faculty.

http://www.annschwab.com

Elizabeth Stone:
40 Moons: Carl Sagan, astronomer and astrophysicist, reminds us that humans have evolved to wonder and to understand that we are actually "starstuff pondering the stars, that understanding is a joy, that knowledge is a prerequisite to survival." I hope to bridge the intensely personal with the universal by creating images that contemplate human existence in relation to our biological origin in the cosmos.

Science has taught us that the gravitational pull of the moon tugs on the surface of our big, blue oceans until its surface rises up and outward, mythology and astrology that the moon is a symbol of subtlety, a luminary that provides light through reflection. The moon waxes and wanes, shifting and progressing through a cycle of light and dark. A waning moon illustrates the ideas of release and contemplation where a waxing moon can represent growth. A new moon speaks of a rebirth and a full moon is symbolic of the height of power and the peak of clarity.

My mom had Parkinson's disease and dementia associated with this illness. Her disease progressed and like the cycles of the moon waxed and waned. As her death neared, she reflected more light. It is my hope that she reached a level of acuity and peace with her final breath. 40 Moons was created to illustrate the last 40 months of her life. I photographed her daily records, some 3200 pages in notebooks. The words were written by her caregivers. They described the gentle patterns of her days, punctuated with laughter, hallucinations and worry. Each image is a layered representation of a month, a blueprint to my mom's existence as she returns to the stars.

BIO:
Elizabeth Stone is a Montana based visual artist whose work explores perception and mark making by combining her study of photography and drawing with biology and digital technology. The duality of art and science is a strong influence and she frequently looks to the natural environment as a point of departure when considering her own place n the world and the marks she makes. Influenced by artists as diverse as Harry Callahan, Cy Twombly and Agnes Martin, she uses a strict practice to push what is expected of the photographic medium.

www.elizabethstone.com

Jina Valentine:
Jina Valentine's work at once invites and defies close reading. Using text as both content and form, she manipulates and obscures the message through cuts, overlays, and acidic ink materials that literally devour the paper on which it's printed. She entices viewers to contemplate the intricacies of her lace-like drawings and collages, which seem to promise meaning in the accumulation of visual mark-making and clues, but often leaves them yearning for what they can't see in the spaces and voids.

Recently, Valentine has employed new methods to explore her ideas. As she explains, "In the past few years, my practice has become more politically engaged, collaborative, experiential, and experimental. It still includes the manipulations of objects, paper, and writing, but it also involves animation, performance, archiving, facilitating public dialogues, imagining new pedagogies, and interdisciplinary collaboration." One of these efforts was the Black Lunch Table gatherings she co-organizes with New York-based artist Heather Hart. Organized at institutions across the country, Valentine & Hart invite participants to engage in roundtable discussion on a variety of topics, ranging from implicit bias to the authorship of art/history. Additionally, they stage Wikipedia edit-a-thons which teach participants to author their own pages, with a focus on improving and adding Wikipedia articles on artists of the African Diaspora.

Valentine graduated with an M.F.A. from Stanford in 2009 and is now an Assistant Professor in the Department of Art at the University of North Carolina at Chapel Hill. She has had numerous exhibitions and residencies, including at Skowhegan School of Painting in Sculpture and the Joan Mitchell Center in New Orleans. This year, the Black Lunch Table was awarded a Creative Capital Emerging Genres Grant and an Institute for Arts & Humanities Fellowship. Valentine is a 2016-2017 N.C. Arts Council Fellowship recipient.

www.blacklunchtable.com

John Powers:
An early interest in painting has never fully fled, and I see it manifested here. The all over compositions nod to abstract expressionism, particularly the works of Rothko and Pollock. My interests reach beyond those art historical examples however, and lean towards the sculptural implications of drawing.

The Machine Made works in essence are nothing more than the recorded actions of the lo-fi mark making devices I have constructed. I see the process of creating the image as a type of assemblage, a building up of density. Like a reversed form of carving, the continuous adding of media both obscures and reveals as the process runs on. The motion of the individual mechanisms is random, but within a finite realm. I see the motion of the devices as related to a variety of natural processes, from the jitter of quarks to the movement of air molecules to the bobbing of debris in the ocean. The residual drawings, saturated and atmospheric, similarly exhibit characteristics of seemingly unrelated forms of networks ranging from flight paths to neurons.

Bio:
John Douglas Powers has exhibited nationally at venues including Crystal Bridges Museum of American Art, The MIT Museum, The Telfair Museum of Art, The Mason-Scharfenstein Museum of Art, The Mariana Kistler Beach Museum of Art, The Huntsville Museum of Art, The Wiregrass Museum of Art, The Alexander Brest Museum, The Masur Museum, The Gadsden Museum of Art, Jonathan Ferrara Gallery, Brenda Taylor Gallery, The Georgia Museum of Art, The Vero Beach Museum of Art and Cue Art Foundation. His videos and animations have been screened internationally.

Powers studied art history at Vanderbilt University and earned his MFA in sculpture, with distinction, at the University of Georgia. His work has been featured in The New York Times, World Sculpture News, Sculpture Magazine, Art Forum, The Huffington Post, Art in America, The Boston Globe and on CBS News Sunday Morning. He is the recipient of a Guggenheim Fellowship, the Virginia A Groot Foundation Award, a Joan Mitchell Foundation MFA Grant as well as a Southeastern College Art Conference Individual Artist Fellowship, an Alabama State Council on the Arts Fellowship, and the Margaret Stonewall Wooldridge Hamblet Award. Powers currently lives and works in Knoxville, Tennessee and is Associate Professor of Sculpture at The University of Tennessee.

www.john-powers.com
http://www.gf.org/fellows/all-fellows/john-douglas-powers/

Karoline Schleh & John Seefeldt:
This interactive installation is a collaborative effort. Karoline created backwards-script ink drawings in response to photographs taken by John Seefeldt for the original source imagery. John Seefeldt developed interactive components and software allowing the viewer to explore the imagery. As the viewer moves between the panels, the images shift within the layers. The goal of this collaboration is to create a space that responds to the viewer's presence within it.

Bios:
Karoline Schleh is a native of New Orleans, where she lives and works with her family.
Karoline's work is included in the collections of the Louisiana State Museum, the New Orleans Museum of Art, the New Orleans Arts Council, and private collections. She has received grants from the Pollock Krasner Foundation, the Joan Mitchell Foundation, and the Louisiana Cultural Economy Foundation. Callan Contemporary represents her in New Orleans, and Ann Connelly Fine Art represents her in Baton Rouge. In addition to her studio work, she works as an Assistant Professor of Studio Art at Loyola University, New Orleans.

http://www.schleh.com

John Seefeldt is an Assistant Professor of Interactive and New Media at Loyola University New Orleans in the Departments of Art and Design. He received his Bachelor of Fine Arts from the University of North Carolina at Asheville and a Master of Fine Arts from Western Carolina University. His primary medium is a combination of interactive media and traditional fabrication methods. The work is informed both by research and an experiential understanding of the human experience in a contemporary media-centric culture. His most recent work leverages both virtual and augmented reality technologies to provide the viewer with an opportunity to explore their own interactions and relationships with their environment from unfamiliar perspectives.

http://www.johnseefeldt.com
 
Encephalograms are the tracings of a nonexistent machine whose freeze-frame technology captures the brainwaves produced by emotions. The machine draws from life. In making them, I considered ideas of attribution and authorship as belonging not to an artist's hand but to an imagined clinical collaboration between a technician, a machine scribe, and a feeling, imagining subject. Results are entirely fanciful and therefore irrefutable. If scars are a record of life written into skin, could medical imaging—at first glance gauzy, nebulous—record not physiology, but autobiography? A benevolent machine lens trained into our darkest recesses offers insight and validation, portraiture.

Bio:
A Front member since 2010, Lee Deigaard graduated from Yale University and holds graduate degrees in writing and studio art from University of Texas at Austin and University of Michigan. Her series of nocturnal photographs of animals won the Clarence John Laughlin Award and was featured in solo shows at The Ogden Museum of Southern Art in 2014 and at Arthur Roger Gallery in 2016. Her immersive video and sculptural installations have been shown at the Contemporary Art Center in New Orleans, the Acadiana Center for the Arts, and the Alexandria Museum of Art. As a Southern Constellations Fellow and artist-in-residence at Elsewhere in Greensboro, NC, she invited horses to explore a museum housed in a former thrift store. Her work has appeared in National Geographic's blog PROOF, Lenscratch, and Oxford American. Other group shows she's instigated at The Front include You Beautiful Bitch, Latin for Crab, Standing Heat: I am I because [my little dog] knows me, and PhotoBOMB.
www.leedeigaard.com

Norah Lovell:
The Minor Works: 100 Paintings, Excerpts 1-16—Laboratory Crimes and Library Crimes

Inspired by Chilean author Roberto Bolaño's 2666, Lovell's series of 100 small stereo paintings plays with the process of art-making by investigating her practice for making images and her system of elaborating on ideas, while exploring Bolaño's concept of The Minor Works. The imagery is based on twelve panels from Palais Royal French scenic wallpaper circa 1800 she encountered in a colonial home in the Northeast U.S., a set of World Book encyclopedias circa 1970, and ongoing experimentation with stereoscopic viewing, or the double condition. As in 2666, crime and detection serve as central metaphors for sleuthing out what is inscribed on the surface (like a crime chalk-line) and what has slipped away unnoticed like a thief in the night. Laboratory and Library Crimes are excerpted here and the larger series also includes Highland Crimes, Lowland Crimes, Borderland Crimes, Seaside Crimes and Riverside Crimes.

Bio:
Norah Lovell (b. New York City) is a visual artist whose practice includes works on paper, paintings and related ephemera. She received her MFA from the University of Chicago and BFA from the University of New Mexico. Residing in New Orleans since 2008, She was a resident at the Emily Harvey Foundation (Venice, Italy 2015), and at the International Scholars and Curators Program in Brooklyn, N.Y. (2015) through support from a Joan Mitchell Foundation grant. In 2013-14 she was selected for the NOLA Studio Artist Program pilot at the Joan Mitchell Center in New Orleans. Her work has been exhibited at the Contemporary Arts Center, New Orleans, The Ogden Museum of Southern Art, (receiving an honorable mention from Franklin Sirmans, Perez Art Museum, Miami), and was included in the Drawing Center Museum's Viewing Program, NYC. Her paintings were featured at the Grand Rapids Art Museum, Michigan, during ArtPrize 2014, and she was included in multiple P.3+ satellites in October of 2014. She has had two solo exhibitions at Callan Contemporary in New Orleans January 2014, and April 2015, and a solo exhibition at Staples Goods Gallery in February 2016, where she is also a member.