May 10- June 8, 2014
Opening reception Saturday May 10th, 6-10pm
Room 1:
Bahama Kangaroo Presents: Yukako Ezoe and Naoki Onodera
Naoki Onodera
I am Japanese artist. In 2004 I moved from Tokyo, Japan to San Francisco, CA where I currently reside. Art represents an excellence. As a continuation of practice, an expression ferments to increase its essential quality, which become to have meanings in my art. Because I would not accept to live my life meaninglessly, I started making art works. Under this circumstance, it comprehends sentimental values. I appreciate to have the audience look at them. My creative techniques can be seen through: painting, photography, music production, web production, and poetry.
Yukako Ezoe
'A sense of play- more street-smart than sentimental; international, but also attuned to a universal understanding of nature is central to Yukako Ezoe's art. Ezoe's vividly colorful paintings and collages are informed by her experiences as a student and a teacher, and often directly connected with everyday necessities and pleasures.' (Huston, Johnny Ray / "Lucky Charms Safe Journeys" / Guardian / 2010)

A Japanese-American artist, designer, and teacher, Ezoe investigates history and mythology through stylistic references in her fictional landscapes and invented personalities. Ezoe's art practice includes collage, mural painting, and installation. Japanese pop artist Yokoo Tadanori's work of the 1960s and 70s is an evident influence on Ezoe's high-contrast color choices and her compositional style. At the same time, she finds inspiration for natural subject matter in field studies, such as the bird paintings of wildlife artist John James Audubon. Many pieces are portraits of her thoughts and ideas. Her key ideas are unite, peace, play and resist. Through extensive use of personal symbolism, she represents aspects of historical and popular culture with which she identifies. Her materials reflect herself: scraps of Japanese kimono fabric, dark colors representing her love of the night, the image of a percussion instrument that allows her to imagine peace in the elongated resonance of its music upon sight.
Ezoe received her BFA from the San Francisco Art Institute in 2006. As a San Francisco resident, Ezoe cites the local cost of living and community concern for the environment as catalysts for being resourceful in art making. She limits the materials she purchases from art supply stores, and supplements with found and used materials, with a goal of creating the least possible amount of waste in the process. Her professional involvements in the San Francisco community include as a teaching muralist and Education Director with Precita Eyes Mural Arts Association, where she has participated in the creation of a dozen community mural projects with schools since 2006. Besides teaching, Ezoe applies her artistic skills to curating, graphic design, live painting events, and, Bahama Kangaroo, a line of jewelry and silk-screened t-shirts.
Room 2: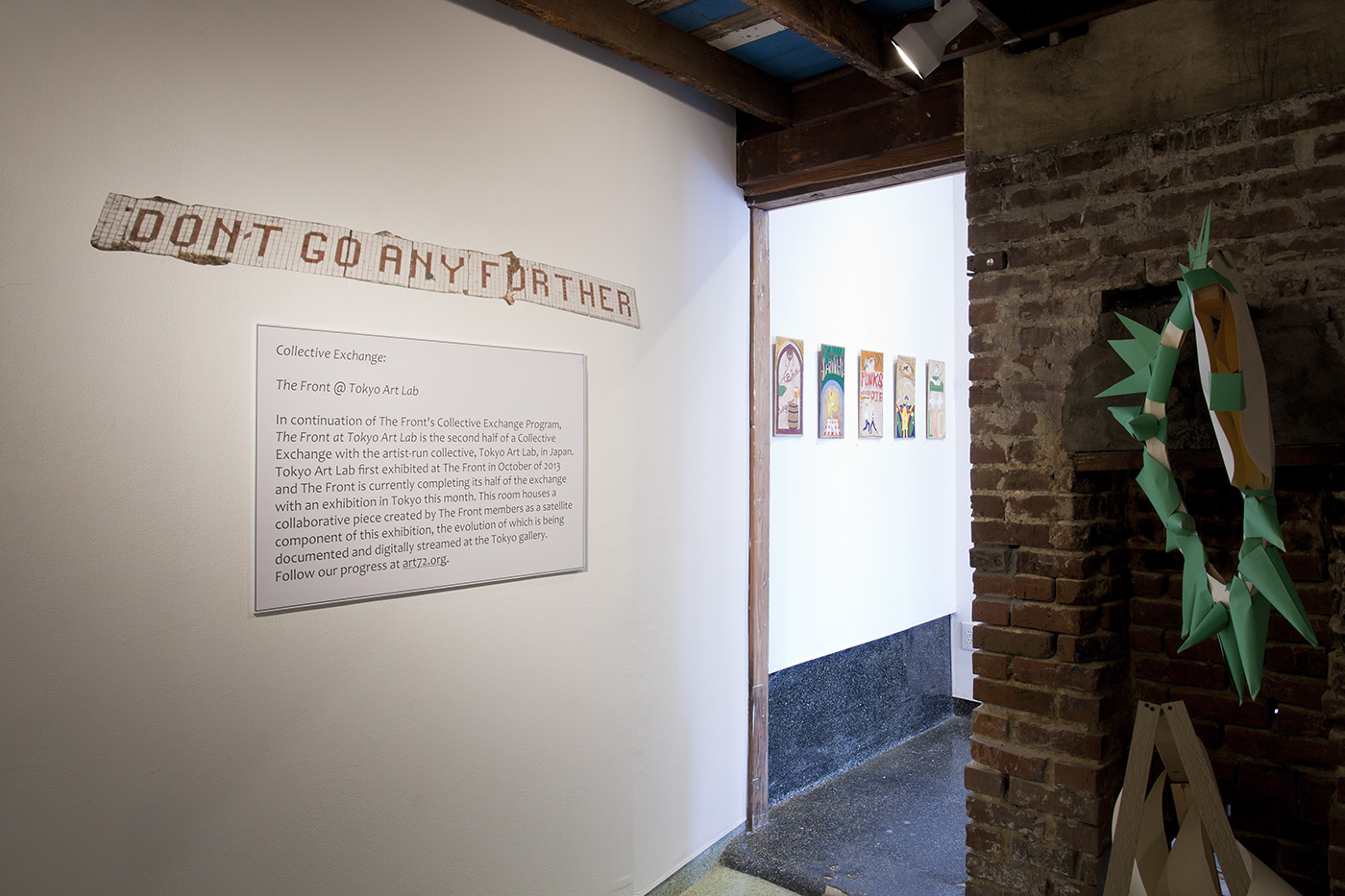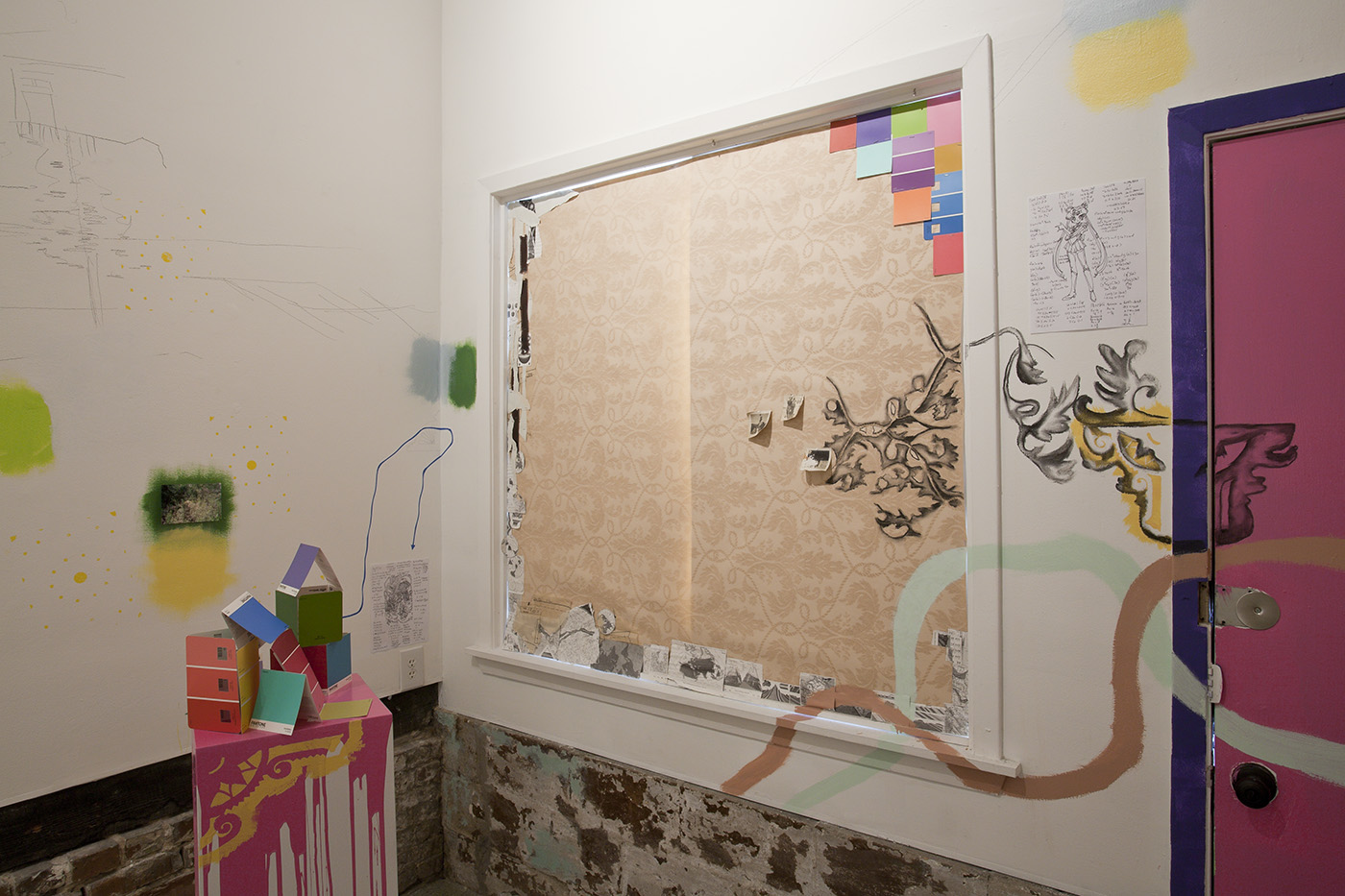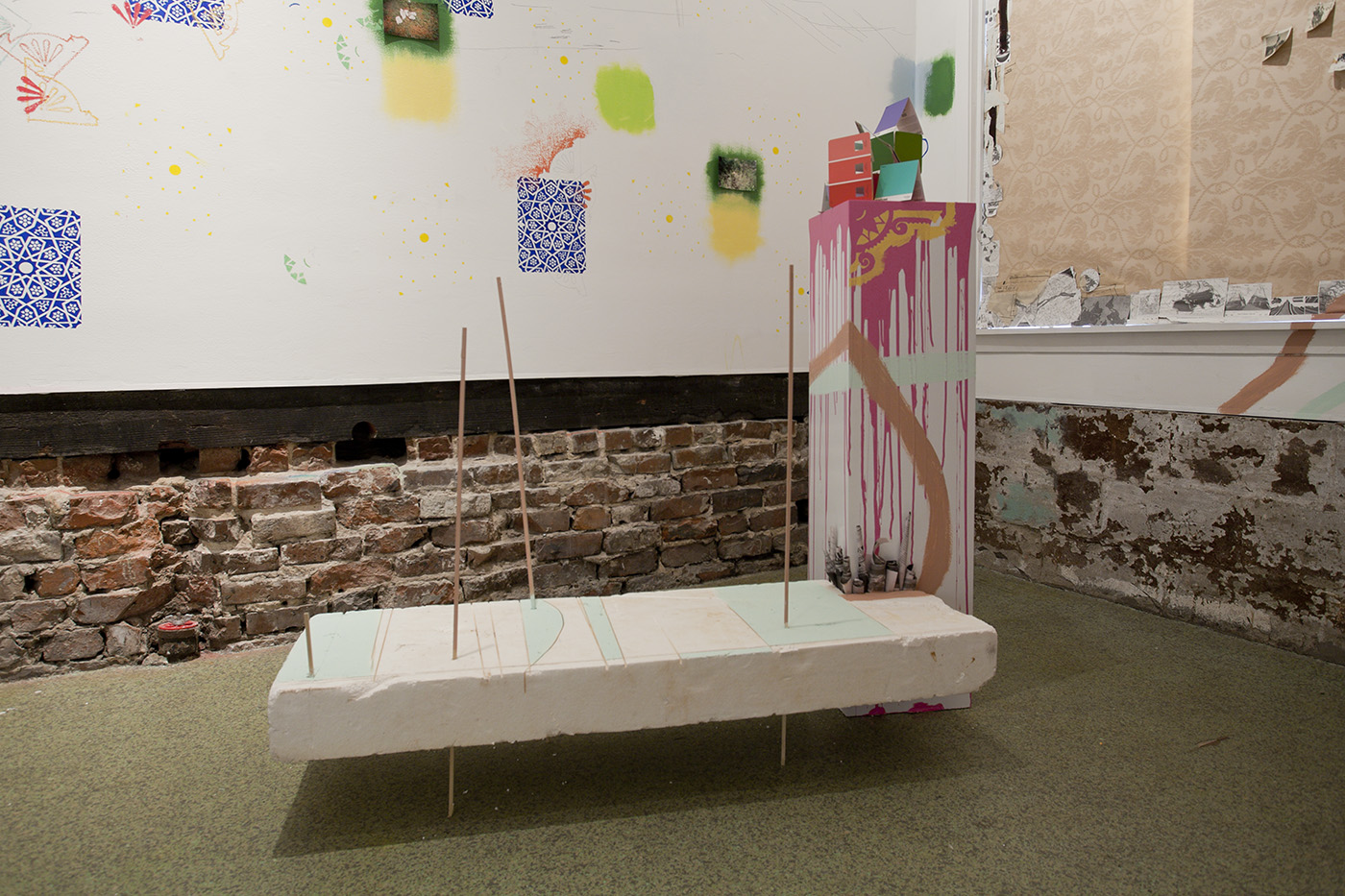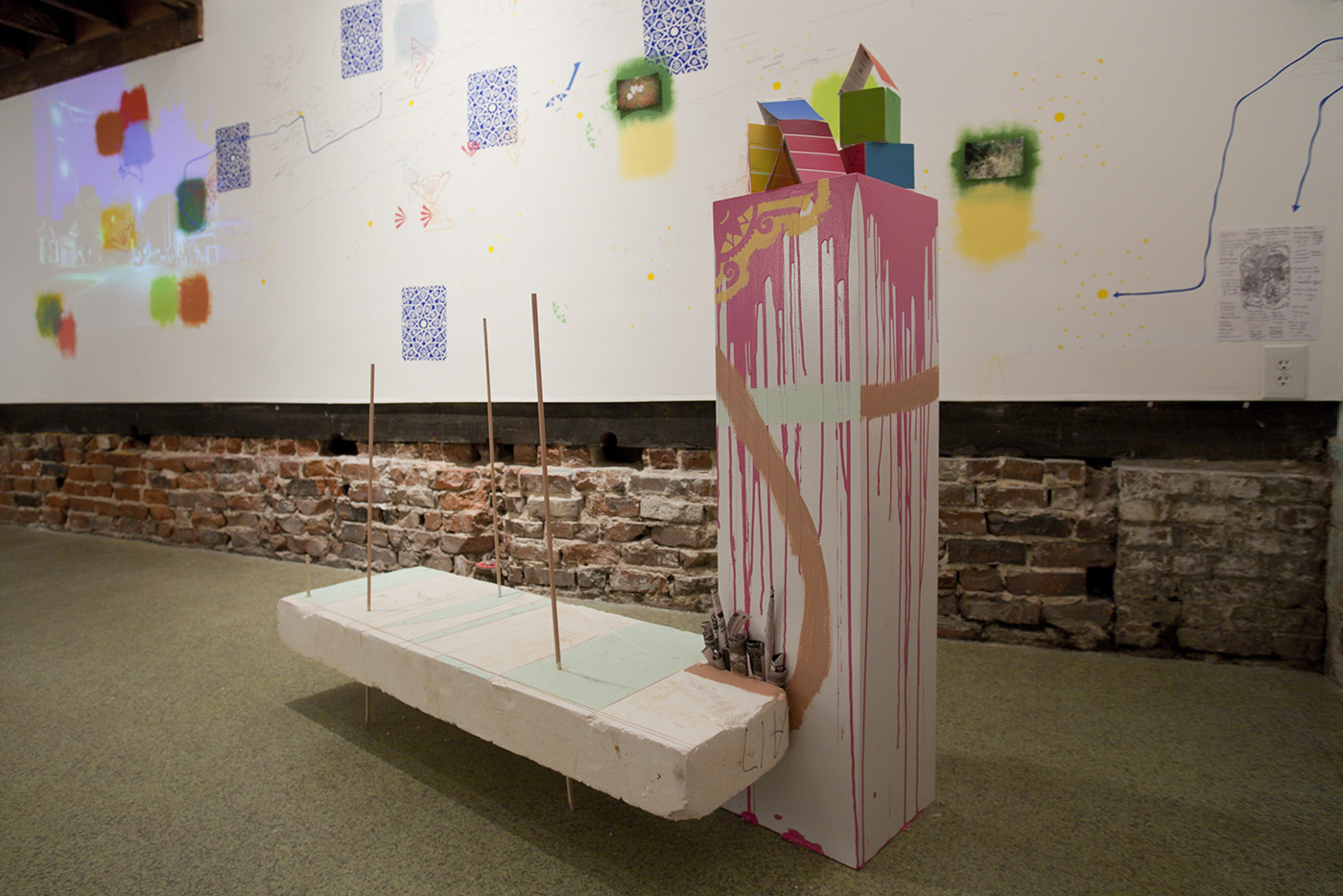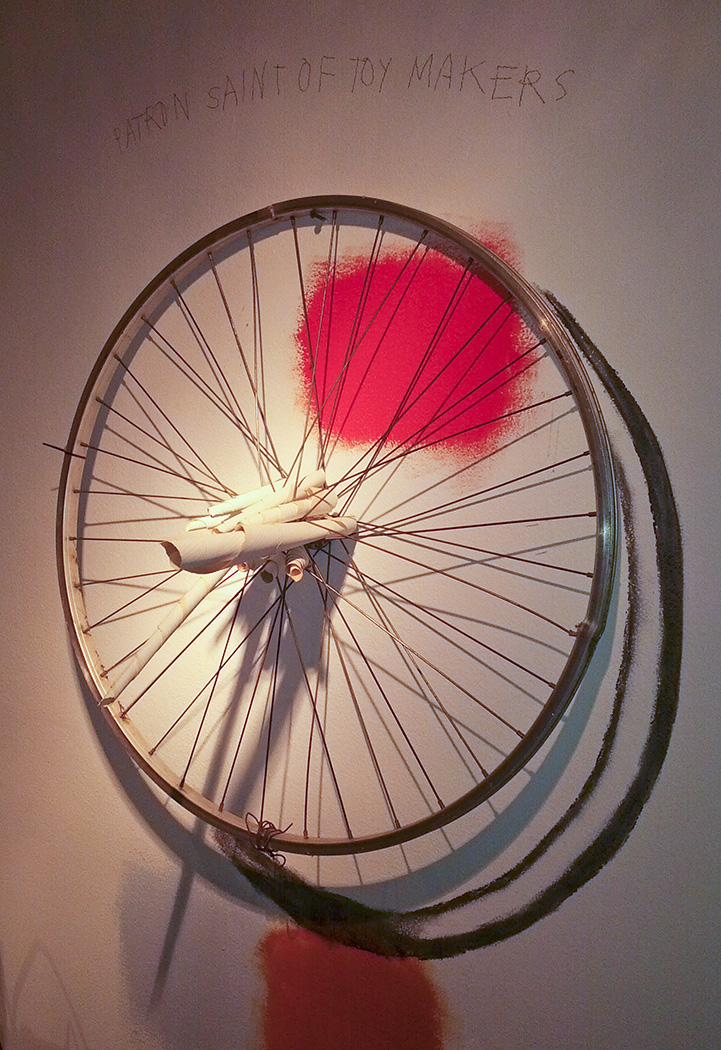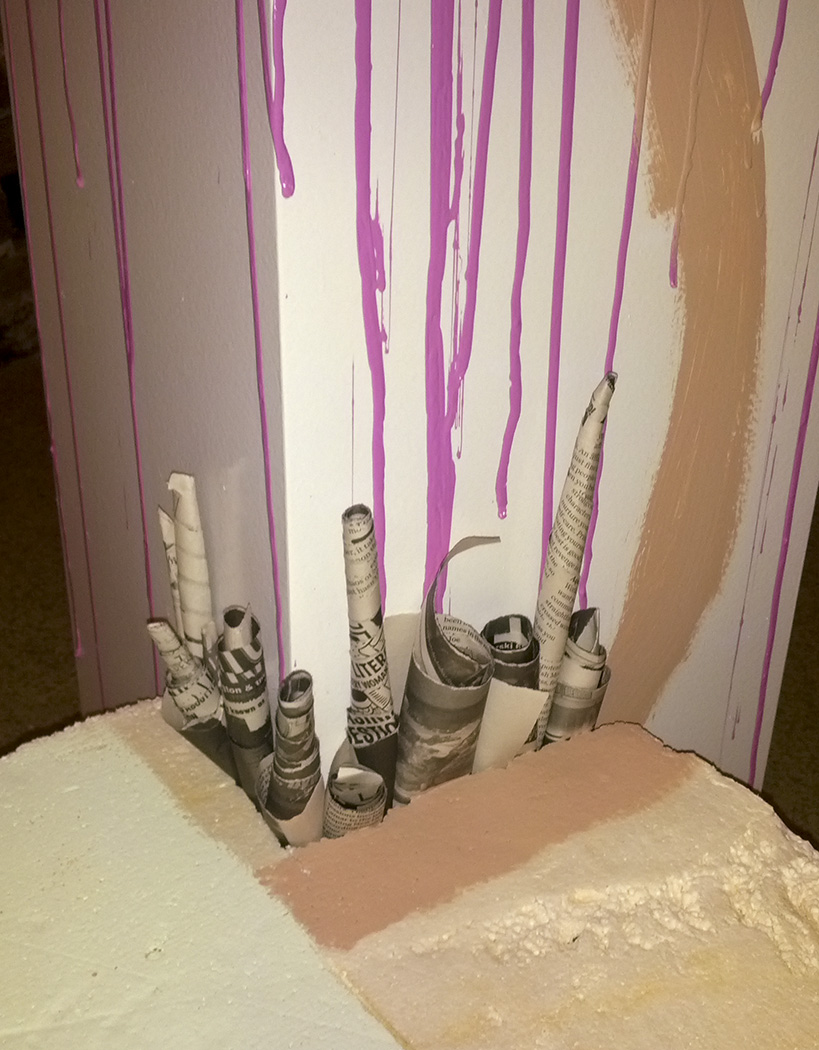 The Front at Tokyo Art Lab
In continuation of The Front's Collective Exchange Program, The Front is having a group show with Tokyo Art Lab in Japan during the month of May. As a satellite component of this exhibition, The Front will produce a collaborative work within their New Orleans gallery, the evolution of which will be digitally streamed to Tokyo Art Lab's gallery in Japan. The month-long duration of this work will allow members of The Front to contribute as individual artists in response to contributions made by fellow members in service of the greater whole. The Front at Tokyo Art Lab is the second half of a Collective Exchange with Tokyo Art Lab, who first showed as a collective at The Front in October 2013.
Follow our progress at art72.org.
Room 3:
Hunter Thompson, Lindsay Preston Zappas, Jamie Solock
THIRDS
Originally from Kansas City, Missouri, Hunter Thomson attended the School of Visual Arts in New York and attained his BFA in computer art. In the summer of 2009, he moved to New Orleans and started painting in his backyard. Without formal training in painting, Hunter translates his colorful, flat and somewhat minimal approach from graphic design to create abstracted landscapes. In 2011, Hunter became one of the founders of Flatland Productions, a motion graphics, animation and post production house.
Lindsay Preston Zappas is an artist and writer living and working in Los Angeles. Her work centers around ideas of contemporary mimicry–heavy patterning and bright colors drape the body through photography, drawing, and build wood sculptures. She received her MFA in sculpture from Cranbrook Academy of Art in 2013, and attended Skowhegan School of Painting and Sculpture in 2013. Zappas has done residencies at Ox-Bow School of Art in Saugatuck, Michigan, and Helmuth Projects in San Diego, California. In 2013 Zappas co-founded Carets and Sticks, an online art magazine focused on fostering a network of young emergent artists. Her writing has been featured on Art21, and she recently begun co-hosting The Conversation Artist Podcast, an LA based interview style podcast.
Jamie Solock makes installation, video and sculpture that explores the interaction of image, language and sound and the way they are used to construct meaning. Her work blends invented and borrowed components to create non-linear narratives that are meant to question interpretations of perception, expectation and bias. She completed her Masters of Sculpture at Cranbrook Academy of Art in 2013. She currently resides in New Orleans where she is a member of the Front artist collective.
Hunter: www.flatlands.tv
Lindsay: www.lindsay-preston.com
Jamie: www.jamiesolock.com
Ryn Wilson
FATHOM (MCMLXXVI)
There was a renaissance of artistic freedom in mainstream films during the 70s. At this time, the public began to embrace international, independent and alternative cinema, which encouraged filmmakers to redefine their craft in visual and narrative terms. This resulted in a strangeness and originality that could never make it into the big budget films of today.
Horror and sci-fi often express the zeitgeist or fears of an era. In this period, feminism translated into the new phenomenon of the female protagonist transitioning from victim to heroine, such as in classics like Halloween orAlien. The Satanic Panic of the religious right created an interest in occult subjects, which were the focus of so may filmmakers of the time like Roman Polanski and Dario Argento.
The exhibition, Fathom (MCMLXXVI), examines elements of horror and sci-fi from this period. Through digital photography, I create the outline of a narrative, giving the viewer stills from an imagined film. I give clues, such as a female lead being pursued by an invisible antagonist, which suggests the supernatural is at play. I project a video of a ghostly scene on loop behind a velvet movie curtain with a single red light bulb, suggesting a space where a medium would summon spirits. Style and subject matter take on the elements of the uncanny, the seductive and the enticing quality of our anxieties and curiosities.
Ryn Wilson is a photography and video artist currently living and working in New Orleans, LA. She was born in Lake Forest, Illinois in 1983 and received her BFA from the University of Wisconsin, Milwaukee in 2006. She spent time studying in Thailand, China and Germany and worked as a photographer and artist's assistant in Tokyo and Shanghai. She has exhibited in Tokyo, Shanghai, Hamburg, Innsbruck, Oslo, San Francisco, Austin, Milwaukee and New Orleans. Ryn received her MFA at the University of New Orleans in May 2013 and is a member of the artist collective and gallery, The Front.
kathryneileenwilson@gmail.com
www.rynwilson.com
Backyard:
Margaret Hull, Philippe Landry
Curator, Imen Djouini
The Bonnet Carré Spillway in Norco, Louisiana presents an intersection between infrastructure, nature and industry. It's a flood control dam that opens into a floodplain off the Mississippi River, just outside of New Orleans. The plain extends between Lake Pontchartrain and the Mississippi River, and is guaranteed to be flooded once every 5 years or have lower levels of water running through it yearly. This makes it a uneventful space along its borders. It is purely transient and wholly liminal. The main activities that attract visitors to this space is remote control aircraft­racing club. As a collective, we approach the spillway space in the same fashion as the Center for Land­Use Interpretation (www.clui.org). As artists we want to deconstruct various facets of this environment and understand the visual, structural, geographic and sonic properties of the space by creating art work with poetic concerns of themes of light, texture, sound, time, proximity and volume. On one level the space can be understood as "framed nothingness,"or "space with no purpose other than to be empty space." In our work, we inevitably welcome the interaction of this occurrence and hope that through the making of artwork we are perhaps inviting others to experience the same.
Margaret Hull (Richmond, VA b. 1986) is an artist working primarily in the fiber realm including embroidery, weaving, and assemblage. She maintains a studio in New Orleans, where she has lived for the past four years. She grew up in the historic district of Church Hill in Richmond, Virginia before attending the Maryland Institute College of Art in Baltimore. In 2008, she graduated with a BFA in Fiber. At MICA, she was involved in Community Arts Partnerships and received a France Merrick Fellowship to pursue an embroidery project with homeless women and children. She has continued community outreach work by teaching art as well as literacy in New Orleans. The co­founder of a monthly critique group in the St. Claude Arts District and Secretary/Treasurer of May Gallery and Residency, she exhibits her work and attends artist residencies nationally as well as abroad. This fall, she will begin study in toward a Masters of Fine Art in the Fiber Department at Cranbrook Academy of Art.
Philippe André Landry (St. Martinville, b.1980) is an artist and writer from South Louisiana and is based in New Orleans, Louisiana. He studied anthropology and history at the University of Louisiana at Lafayette before turning his focus to sound and art. He has written music for contemporary dance, collaborated with visual artists on mixed media installations, and has exhibited sound work in group shows in New Orleans, Brooklyn, NY, and Cleveland, OH.approximation of futurism or Stravinsky. Landry's sound explorations include field recordings, tape music, and crude piano studies. His field recordings focus on the acoustic ecology of South Louisiana's diverse landscapes and environments, melding anthropology, history, and geography to further examine liminal spaces, thresholds, and the relationship between rural and urban spaces. Philippe's compositions range from scores for dance and live performances, to mixed media installations and tape collages comprised of magnetic reel­to­reel or cassette tape cut­ups and loops. His piano work is a ham­fisted approximation of futurism or Stravinsky.
Imen Djouini (Algiers Algeria, b.1987) is a visual artist from North Africa who lives in New Orleans. She is currently working on her Masters of Fine art degree at Tulane University in printmaking. After receiving her undergraduate degree in Painting and Art History from the Maryland Institute College of Art, she moved to France to teach English, then later to New Orleans to teach French. She is a current member of the Front art collective. Her art work employes various pattern inspired by her exposure to North African textiles as a young girl. She uses various printmaking processes including silk screen printing and installation in order to explore the formal play of cultural symbology, its shift from one cultural reading to the next and its repetition. Her current thesis work explores the formal overlapping of French colonial and Islamic/ Berber pattern. Djouini's work has been exhibited locally, nationally, and internationally.