March 9- April 7, 2013
Opening reception Saturday March 9th, 6-10pm
Room 1: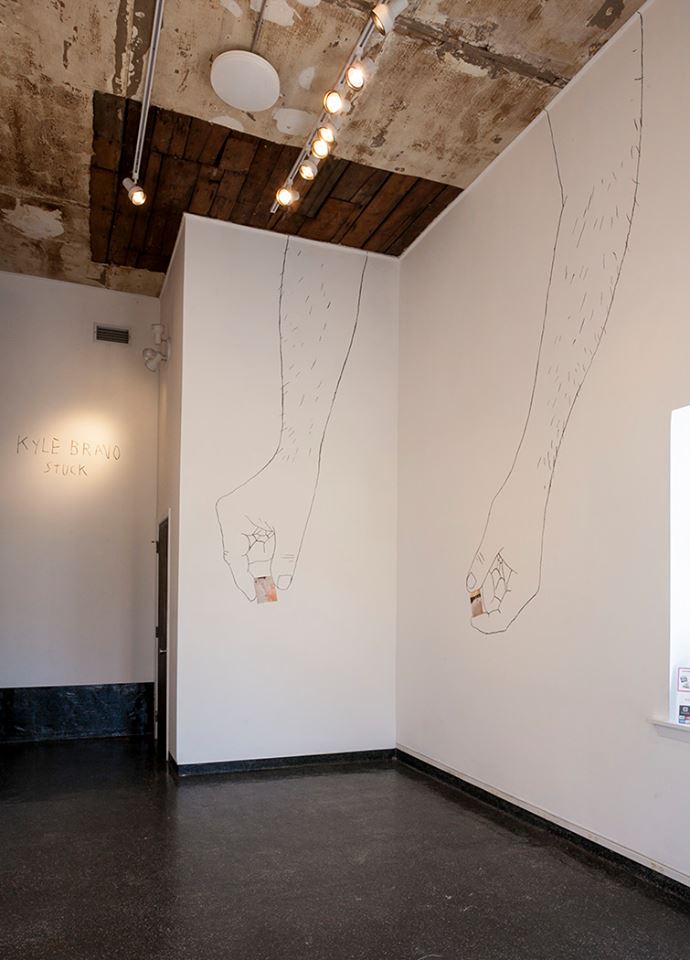 Kyle Bravo
Stuck
This show will feature new pieces in Bravo's continuing series of large scale self portrait wall drawings. Drawn directly on the wall, the figures interact and struggle with the space around them, engaging architectural elements, and yearning to break free from the confines of the gallery walls they're seemingly trapped within.
Room 2:
Deville Cohen
Poison
Deville Cohen's performance-based photographs and videos use black-and-white Xerox images as integral elements in their mise-en-scène. Sets, characters, and props become entangled in psychic dramas saturated with humor, desire, and anxiety. Cohen was born in Tel Aviv, Israel, and currently lives and works in New York, NY.
Room 3:
Jane Fine
Fatty was an Angel
Located on the border between figuration and abstraction, Jane Fine paintings are raucous battlefields. On their surface, hard-edged painting delivers a sucker punch to biomorphic abstraction, figure and ground are dueling and there is a fight to the death between drawing and painting. Each painting is a perfect storm, impossible to recreate. They are slowly worked, with no formula, no recipe, no predetermined state.
Room 4:
James Esber
Parts and Labor