January 8- February 6, 2011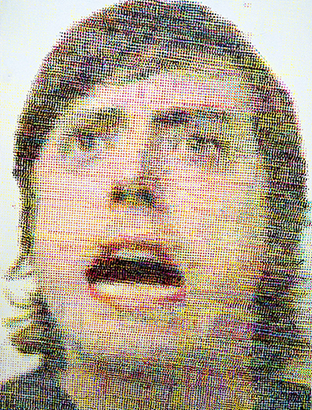 Farewells and Introductions
Bare Hands is a non-profit alternative space for the exhibition of contemporary works in all media, unique in its focus on Birmingham and Alabama area artists.

Founded in 1996, the local gallery was committed to providing a positive and professional venue for local contemporary visual artists. In 2004, Bare Hands was incorporated as a non-profit arts organization and continues its mission to present work by emerging and established Birmingham artists, as well as regional artists. It also strives to educate the public about the cultural importance of contemporary art and artists in Alabama through exhibitions and gallery talks, support for arts education, and community outreach.
Jessica Helfrecht opened Bare Hands in June 1996, providing a positive and professional venue for a stable of local contemporary visual artists who were in need of a gallery home. In December 2000 Wendy Jarvis bought Bare Hands. In May 2004, Jarvis and a founding Board of Directors, converted Bare Hands from a sole proprietorship to a 501(c)(3) non-profit arts organization. As a non-profit, Bare Hands benefited from the support of countless individuals and organizations. Through 340+ exhibitions, installations, performances, classes, lectures and community events, hundreds of artists have built a body of work and community in a gallery that has been a vanguard of Alabama's arts and cultural environment.

However, even with the support of the community and strength of its programs, the Board of Bare Hands has determined that this non-profit organization is not sustainable in the present economy. On December 31st, Bare Hands will close its doors forever leaving behind a legacy of dedicated support for contemporary art and artists in Alabama.
Farewells and Introductions at the Front Gallery in New Orleans features Birmingham and Alabama artists who have either supported or exhibited with Bare Hands over the years. While not originally intended, the exhibition is a farewell of sorts to Bare Hands but also an introduction of several talented Alabama artists to the city of New Orleans.

Curated by one-time Bare Hands artist and former New Orleans resident John Fields.
Artists included in the exhibition:

Merrilee Challiss
Victoria Hogan
Carolyn Sherer
Doug Baulos
Pinky Bass
Bonard Hughins
Byron Sonnier
Clayton Colvin
John Fields
Pat Snow
John Lytle Wilson
Kristin Smith Skees
Tracie Noles Ross and Wendi Flowers Goodwin
John Powers
Aaron Lockhart