August 10- September 1, 2013
Opening reception Saturday August 10th, 6-10pm
Room 1:
Alex Podesta
New sculpture from Alex Podesta stumbles earnestly around the edges of youthful hero worship, hubris, mythology and naïve misunderstanding through the conceit of an overly optimistic and confused, base-jumping, suburban tween Icarus.
Room 2:
Gissel Guiliano
His & Hers: The Summer Collection
Grissel Giuliano is a photographer and multimedia artist who moved to New Orleans in 2006. As a young girl she spent time on her grandfather's farm in Connecticut, which fostered her inquisitive spirit towards nature and science. With an intrinsic curiosity, she later went on to receive a Bachelor's degree in Animal Science from the University of Vermont. Taking on an apprenticeship with a photographer and sidelining as a bird keeper in New Orleans, she began to connect her passion for the arts and sciences.
Grissel's artwork incorporates humor while exploring themes of vulnerability, mortality, and repetitiousness. She has had solo shows at Coup d'Oeil Art Consortium in New Orleans. Her photographs have been exhibited at the Ogden Museum of Southern Art, New Orleans; the Contemporary Arts Center, New Orleans; and the Center for Fine Art Photography in Fort Collins, CO. Her work is included in the Frederick R. Weisman Art Foundation's collection and Marcel Wisznia's Saratoga Collection. She currently resides in New Orleans, and can be found prowling the streets for yard sales.
Room 3:
Scott Saunders
Operations – New Work
All of my work in this show incorporates a form that I've come back to, over and over, in my art making. It's a symmetrical, rounded, organic form that I first used in a sculpture nearly twenty years ago. Recently, I've modeled it in a 3D design application and used a laser cutter to render the shape a number of ways. Against this organic form, I've juxtaposed machine-like metal and plastic structures. These hard-edged parts are all made in my studio. With very few exceptions, there are no found objects here. Every element is made just for the piece of which it is a part. I create all of my work with a metaphorical structure in mind. I play with ideas about mind and body, agency and epistemology. Sometimes the metaphor drives the form, and other times the formal aspects push the metaphor into new territories. I use my art making as a way of thinking about these subjects, not just as a way of expressing previous thoughts. My symbolism may not be readily apparent. I hope that each viewer will create their own reasoning behind the elements in each piece coming together, for the relationships between them, the connections they make and the tensions they hold. My goal is that each piece is engaging and suggestive, and allows and encourages long-term exploration and contemplation.
Room 4: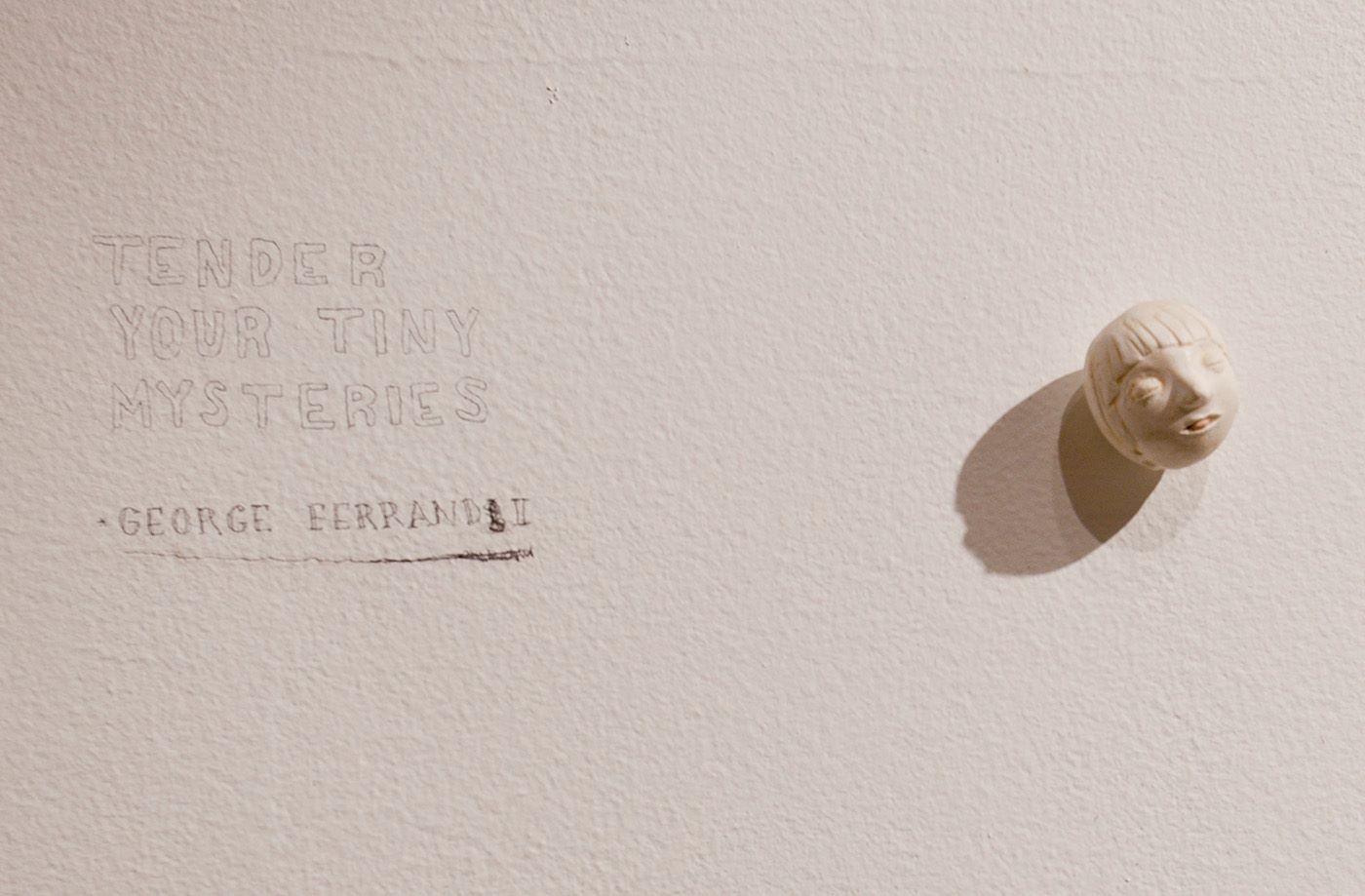 George Ferrandi
Tender Your Tiny Mysteries
Ongoing interactive performance throughout the opening and again from 12:00-2:00pm on Sunday August 11th.
George Ferrandi's work in Tender Your Tiny Mysteries includes a series of drawings as well as a live performance of ok, don't look at the stranger, a mediation experienced by two visitors at a time. They face each other across a small table, each wearing headsets and taking in the story. As they listen, they are asked to silently reveal some things, and to search for other things in the stranger seated across from them. All the while, the artist (acting sort of like Fate) directs and misdirects the narrative through objects on the table in front of them.
According to George, the dynamic that results from the shared intimacy of the experience with its inevitable moments of disconnection is "like the darker parts of falling in love." The poet Christy Sanford has described George Ferrandi's work as "employing a unique humor and a deep sense of humanity." This continues to be true of the works on paper in Tender Your Tiny Mysteries. The drawings exist as a quiet document of the lighter side of falling in love. They record the subtle shifting of our attentions, the soft halos that seem to surround everyday events and objects as we slip into "so far gone." The gentle pencil drawings aren't so much autobiographical as they are a playful acknowledgement of the general impact of attraction on our daily experience.
George Ferrandi works in a range of media, and often directly employs the poetics/specifics of her life as context. She is an artist with a hybrid studio practice and a rooftop garden in Brooklyn, New York. Her work moves between sculpture, performance, installation, video, and drawing, often incorporating several components at once. Her work has been performed/exhibited at the Kitchen in New York, Cinders Gallery in Brooklyn, the McKinney Contemporary in Dallas, the Wexner Center in Columbus, Museo d'Italo Americano in San Francisco, UCSD in San Diego, the Harn Museum in Gainesville, and Fleisher Art Memorial in Philadelphia. She has received grants from the Franklin Furnace Fund for Performance Art and from the Mid Atlantic Arts Council. She is director of Wayfarers Studio Program and Gallery in Bushwick, and teaches Sculpture and Performance Art at the Rhode Island School of Design. She also runs a business that restores statues of saints for churches, and has a little dog named Santo.