April 12- May 4, 2014
Opening reception Saturday April 12th, 6-10pm
Room 1: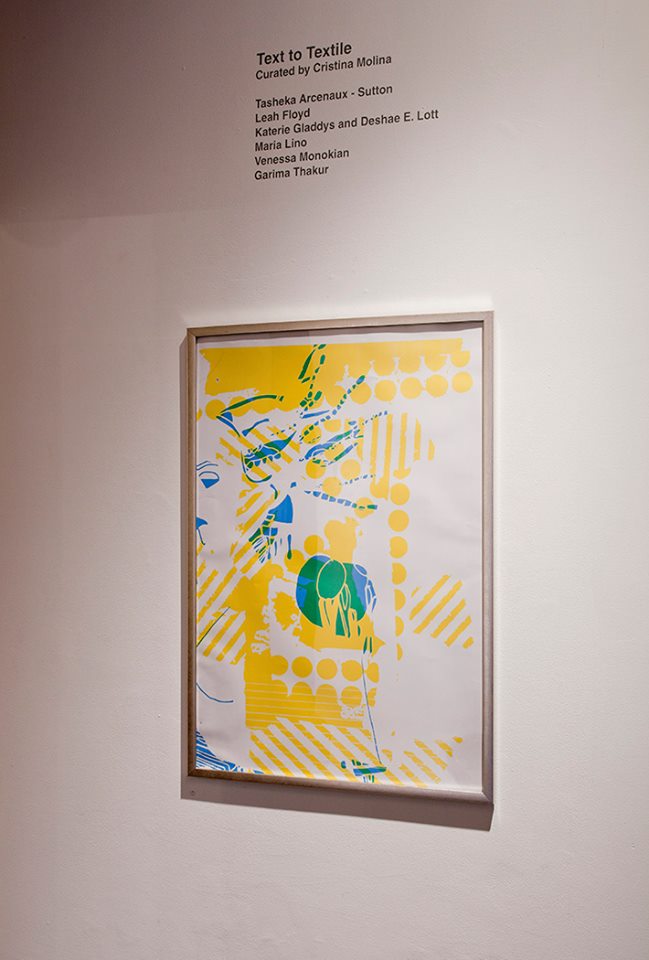 Tasheka Arceneaux-Sutton, Leah Floyd, Katerie Gladdys + Deshae E. Lott, Maria Lino, Venessa Monokian and Garima Thicker
Text to Textile, Curated by Cristina Molina

Collage, digital print, video, interactive sculpture, and textile.
Text to Textile is a group exhibition featuring female artists who use technology in their art practice. Although the techniques vary from using text, to video, collage, interactive sculpture and textile, each artist incorporates the subject of boundaries, the retracing of memory, and the physically tactile in this survey of work.

Bios:

Tasheka Arceneaux-Sutton is an educator, image-maker, graphic designer who specializes in print and publication design. Tasheka worked as the Lead Designer for the Navy Reservist newspaperand magazine and attended graduate school at California Institute of the Arts (CalArts), where she received her MFA in graphic design. Tasheka also worked as an in-house designer at CalArts where she was responsible for promoting the mission, visibility and identity of the Institute and its six schools of visual and performing arts, and the Roy and Edna Disney CalArts Theater (REDCAT). Shehas done work for Eric Owen Moss Architects, the Museum of Contemporary Arts (MOCA),HarperCollins Publishing, and most recently Big Class, The New Orleans Review, theNeighborhood Development Association (NDF) and LA Model & Talent Management. Tasheka also taught typography at Loyola Marymount University Los Angeles. She is currently an Assistant Professor of Graphic Design at Southeastern Louisiana University where she teaches graphic design, typography, motion design and internet design and she's apart of the faculty in the MFAprogram in graphic design at Vermont College of Fine Arts (VCFA). Tasheka's work has been a partof several group exhibitions: The 6th United Design International Biennial Design Exhibition, (St.Louis), Mentors Centennial (New Orleans), How A Book Is Made (New Orleans), The Department of Fine and Performing Arts Faculty (Hammond, LA), Joie De Vivre: A Meditation in New Orleans, Katrina & The U.S. (Chicago), Re:Garding Valencia (Valencia, CA), Boomerang (New Orleans), and Eclectica (New Orleans). Her work was also published in the Japanese design magazine Idea.
Leah Floyd was born in Aurora, Illinois and raised in Indian Harbour Beach, Florida. In 2006 she received her Bachelors of Arts with a degree in English from Stetson University. After graduating from Stetson, she moved to Buenos Aires, Argentina where she worked as an English teacher until 2008 when she began graduate school in the photography department at the University of Florida. Upon completing her MFA she relocated to New Orleans to live and work. She currently teaches 2D Design, Color Theory and Intermediate Photography at Southeastern Louisiana University. In her free time she enjoys kite flying, reading, baking and non-computer-based forms of correspondence.
Katerie Gladdys is an associate professor in Art and Technology in the School of Art and Art History at the University of Florida. She examines place, marginalized landscapes, sustainability, mapping, consumption, food, agriculture, and disability creating installations, interactive, sculpture, video, and relational performances. Recent partners in collaboration include University of Florida Office of Sustainability and Institute of Food and Agricultural Sciences' Center for Public Issues and Education and the Gainesville community. In 2010, she received the University of Florida College of Fine Art Graduate Mentor Award. Her creative work has been exhibited in national and international juried venues, including in the UK, Canada, Germany, Spain, and Croatia. She received her MFA in New Media from the University of Illinois at Urbana-Champaign and a BA in Art and Design from the University of Chicago. She also has an MA in Teaching English to Speakers of Other Languages with a specialization in pragmatics and discourse from Southern Illinois University at Carbondale.

Deshae E. Lott, Ph.D. now teaches at Louisiana State University in Shreveport. She previously worked at Texas A&M University and the University of Illinois at Springfield. Lott integrates her contributions to the field of disability studies with her studies of American spirituality and literature (She currently co-edits the American Religion and Literature Society Newsletter; she has published on a variety of nineteenth- and twentieth-century Americans including Margaret Fuller, George Moses Horton, Mary Mann, Julia Smith, Walt Whitman, Jack Kerouac, George Oppen, Maya Angelou, and Annie Dillard.): A mixture of syncretism and individualism appears in mysticism, and the mystics whom she studies endeavor to contribute constructively to their communities. Through Lott's contributions to disability studies, she demonstrates ways that difference can strengthen both the individual and the community and proposes approaches for understanding and responding to such differences. Her work in this area has resulted in regional and national presentations, including a presentation at the 1998 MLA Convention; the chapter "Going to Class With (Going to Clash With?) the Disabled Person: Educators, Students, and Their Spoken and Unspoken Negotiations" in Embodied Rhetorics: Disability in Language and Culture (2001); the poem "Inspiration for Self" in Quest (2005); the article "From Where I Sit: Medicaid Reform Must Come Now for People with Severe Disabilities" in Quest (2005); "His Choice: My Life" in Ventilator-Assisted Living (Fall 2005); and the forthcoming article for Ventilator-Assisted Living on sexuality among vent users as well as a collection of personal essays.
Mario Lino writes about her work and biography:
"I love hands, their movements/rhythms, gracefulness/roughness, and their intricate creations.I was raised in a family of manual laborers. Both my parents worked in factories, my mother as a seamstress in the garment industry; my father as a leather worker in a shoe factory, which later led him to become an upholsterer of custom-designed furniture. His sister, my aunt who raised me, was a custom dressmaker and tailor; their brother, my uncle, a tailor. In my family, we learned by doing. I learned knitting and sewing as a child and my father taught me rudimentary carpentry at a time when girls were not allowed to take woodshop in schools. On Saturdays, there were sewing circles in my house, and I listened to the women tell their stories while I participated in the project at hand. When I was three years old, I declared that I was going to be an artist, and despite my family's low-income status, they encouraged me to pursue an art profession. My family admired my ability to draw and create with my hands. In honor of my family's history and of those who use their hands to make a living, I started the series Working Hands."Threaded Passages" is one of the video portraits in the series."
Venessa Monokian, is a photographer turned stop-motion animator. Her works are inspired by a 9 year old child and his boredom with the classroom experience. Using the magic of animation Venessa breeds life into these creatures and creates strange insectoid microcosms for them to explore and play. Venessa was one of 7 artists featured in the Emmy-nominated WLRN documentary "Rising Tide: A Story of Miami Artists." She also recently completed a residency at Panal 361 in Buenos Aries, Argentina, and gained an Honorable Mention award from 2014 Miami New Times Master Minds Award.

Garima Thakur was born in New Delhi, India where she completed her undergraduate studies. She received her Bachelors in Applied Arts at Apeejay Institute of Design. After she finished her undergraduate study, she joined a French-based advertising agency, Publicis. After working professionally for three years, she began graduate studies at University of Florida. Thakur recently moved to Portland from NYC. Her art practice comes from the desire to understand human relationship and their interaction with each other.

Katerie Gladdys + Deshae Lott, AUGMENTED SPIRIT/EXTREME EMBODIMENT A LANDSCAPE, MAPPED, OF VENT LIFE, carpet, conductive thread, Arduino interface, MAX/MSP, wooden pedestal, video (in installation version), 2' x 3' x 3.5', Fall 2007-present

Maria Lino, THREADED PASSAGES, Video portrait, 2013
Room 2:
50iv, John Isiah Walton, Ashley Tague, Jason Childers, Ron Bennett
Grown Ass Kid
Grown Ass Kid is an exhibition displaying how Adults still interact with child friendly hobbies & media.
Room 3:
James Goedert presents Toby Franklin
There are only so many days in a planet.
Toby Franklin is James Goedert's left hand. He holds James' coffees and assists in buttoning buttons when required. But otherwise, Toby's participation in the world is limited by his proximal uselessness. This is not sad, as it affords him ample time to practice his philosophies and ideas - of which he has many. Currently his interests include, but are certainly not limited to: time, space, and other everythings. For seven years Toby has been foraging for insight into the inner workings of these mechanisms and is eager to share his comprehensive study of the universe, how it is, and everything else.
Room 4:
Angela Berry
Outside The Latmian Cave
Outside The Latmian Cave, is a body of photographs made over the past six years in New Orleans documenting changes in the landscape occurring at the intersection between private and public space. My work explores mankind's attempt to manipulate the uncontrollable in nature and the varying degrees of drama within this failed partnership.