January 13- February 4, 2018
Opening reception Saturday January 13th, 6-10pm
reflex arc
Organized by Cristina Molina and Cynthia Scott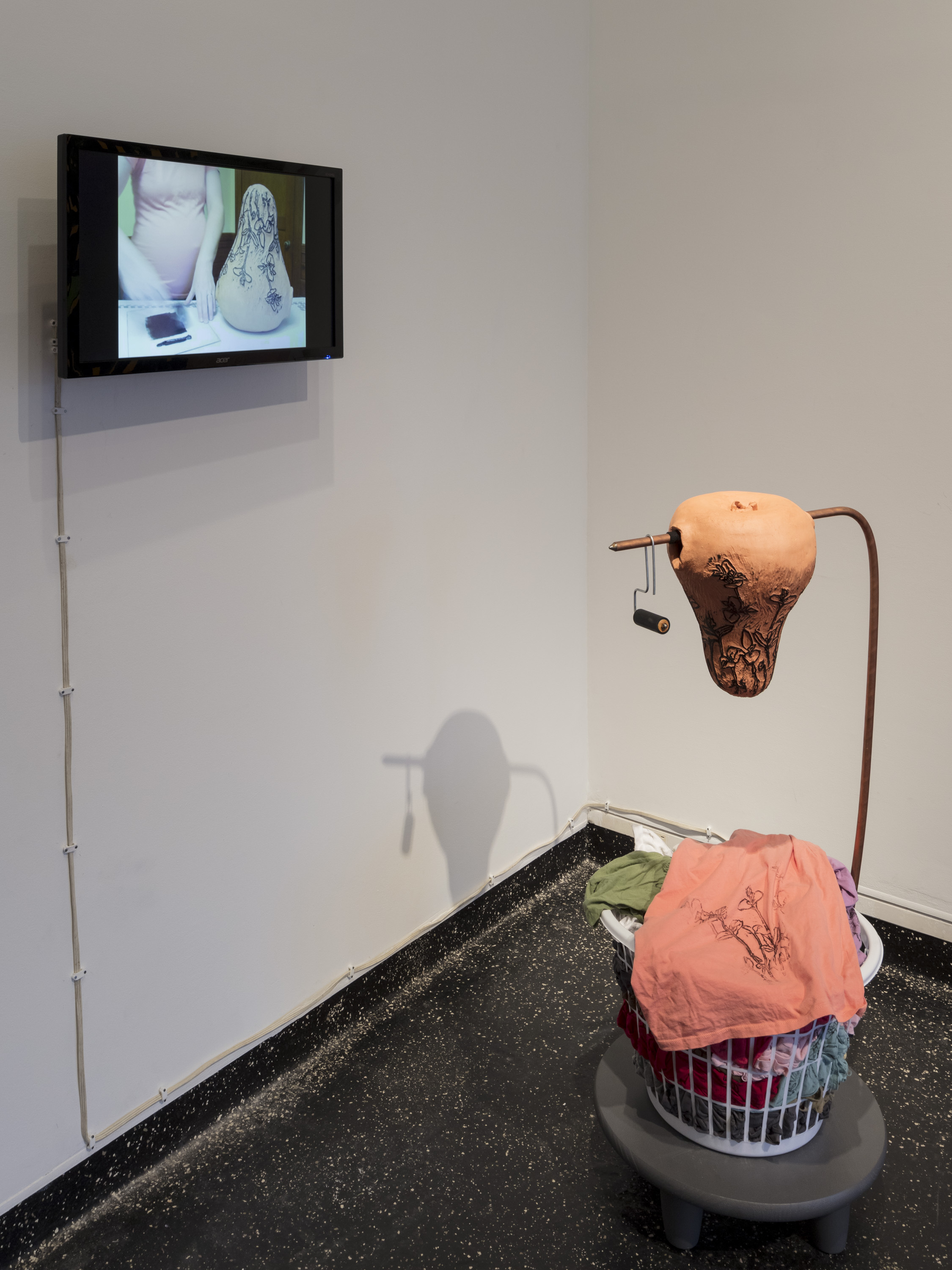 There will be an artist walkthrough on Saturday, January 13, 2018 at 5:00 pm.
In January we welcome back some former Front members and celebrate their successes.
Angela Berry (with collaborator Shaun O'Dell), Kyle Bravo, Rachel Avena Brown, Rachel Jones Deris, Dave Greber (with collaborator Sophia Belkin), Jenny LeBlanc, Stephanie Patton, Brooke Pickett, Jessie Vogel, John Isiah Walton
Angela Berry (with collaborator Shaun O'Dell)
These works are part of a larger project and film called Volcano! At Last, which is the first collaboration between Bay Area based artists Angela Berry and Shaun O'Dell. The project will travel to the Volcano Museum in Stykkishólmur, Iceland and the Escondido, CA based arts space Ship In The Woods in the summer of 2018. In the film two people travel along fault lines in Iceland, Greece, and California pursuing the Volcano as the original author of reality. The film's protagonists compare the human characteristic of authoring to the natural phenomenon of eruption as a revolutionary and transliterative allegorical device. The work on view at The Front includes two silver gelatin prints depicting the points of view between the Temple of Hephaestus and The Parthenon; one drawing representing phase shifting sine waves generated from each temple; and a co-authored presentation of the film's first stage of research and development depicting scenes of the Volcano's authorship, viewed by the film's two characters while walking the strike of a fissure.
Angela Berry is a Bay-Area based artist and writer. She is currently a lecturer in the Photography Program at the California College of the Arts (CCA). Berry received a BA in Art and Art History from The University of the South: Sewanee in 2008 and an MFA (2016) and MA in Visual & Critical Studies (2017) from CCA. From 2008 - 2015 Berry worked actively in New Orleans at the Contemporary Arts Center (educator, curatorial intern, and visual arts coordinator), The Front (artist collective member), and for the roving national conference, Hand-in-Glove (local organizer). Her art and curatorial collaborations have been reviewed in Artforum, Art in America, and Art Papers.
Shaun O'Dell received a BA from the New College of California, San Francisco, in 2002 and an MFA from Stanford University in 2004. His work has been exhibited widely in the US and internationally. O'Dell is represented in New York by Susan Inglett Gallery, in Houston by Inman Gallery, and in San Francisco by Gallery 16. He has won numerous awards and honors including the Tournesol Award (2009, Headlands Center for the Arts), Diebenkorn Teaching Fellowship (2006, SF Art Institute), and the Artadia Award (2005, San Francisco). His work is included in a number of permanent collections, including the Museum of Modern Art, NY, the Whitney Museum of American Art, the Bronx Museum of Arts, the de Young Museum, the San Francisco Museum of Modern Art, Berkeley Art Museum and the DESTE Foundation of Contemporary Art, O'Dell lives and works in San Francisco.
Kyle Bravo
Kyle Bravo was a founding member of The Front. He now makes comics about his life under the title Forever and Everything. Now and then, when he can find some time, he makes prints, three of which are in this show. Kyle is also an art teacher, a husband, and a father, so those things keep him pretty busy and are also pretty great.
Jessie Vogel
At this moment, in my practice, I am struggling with identity. As a new mother, as an artist, as a daughter, as a lover, as a teacher, or any other identifiers new and old. In the installation, The Periphery of My Desire, I have massed together objects, found and made, along with painting and imagery to visually express an overwhelming fluidity between chaos and calm, focused and unfocused, defined and undefined. This work explores the periphery of my desire, acknowledging my lost identity and the odd freedom of it being lost. Each object is a fragment, constructed and assembled to create a whole.
Jessie Vogel is a mixed media sculptor and installation artist focusing on the visual grammar and rhetoric of materials. She was born in New Orleans, Louisiana and received her BFA in 2008 from Wake Forest University. In 2012, she received her MFA in sculpture from Massachusetts College of Art and Design. She is a new mother and a current artist in residence at the Joan Mitchell Center. Her work has been exhibited nationally and internationally, showing in Louisiana, Boston, New York, North Carolina, Texas, Japan, and Mexico.
Rachel Avena Brown dba R. A. Brown, Patron of Energy
Rachel Avena Brown, born Rachel Avena DeTrinis in 1982, is a New Orleans Center for Creative Arts graduate. Mrs. Brown studied at The School of the Art Institute of Chicago, and received her Bachelors of Fine Arts from The College of Santa Fe in 2004. In 2007 she received a Masters of Fine Arts from New York University. She was a member of the artist collective The Front and had her first solo exhibition there in 2012. She has also exhibited her work at Cynthia Broan Gallery, New York City; CEPA Gallery, Buffalo; Collar Works Gallery, Troy, NY; Washington Square East Gallery, New York City; Rosenberg Gallery and The Commons, New York University; Barrister's Gallery, Antenna Gallery, Good Children, The Big Top Gallery, Ken Kirschman Artspace, Joan Mitchell Center, and The New Orleans Contemporary Arts Center, New Orleans; Parse Gallery and Artist Situation, New Orleans & Taos, NM; UAB Visual Arts Gallery, Birmingham; Lump, Raleigh; Florida Atlantic University, Boca Raton; and Southeastern Louisiana University, Hammond. International exhibitions include Direktorenhaus in Berlin. Brown lectured at Florida Atlantic University. She taught Visual Arts for the Recovery School Districts' Talented Art Department, and at Longue Vue House and Gardens in New Orleans. She was also an Instructor of Record in Drawing at Southeastern Louisiana University in Hammond. Rachel Avena Brown is currently enrolled in the Micha-el Institutes' Waldorf Teacher Training program in Portland, Oregon, where she resides with her young son and husband, and teaches Bikram Yoga at Forge Hot Yoga Studio.
Rachel Jones Deris
I am a painter. I make oil paintings on panels.

My most recent paintings are images of women. They are combinations of images from my imagination, 1970's publications and print media, and visual tropes from art history.

They are scenes and portraits, both real and imagined. Color, composition, lighting, and tone are carefully considered and are my pleasure to manipulate.

My ultimate goal is to produce a painting that has a presence and projects a kind of luminance that can only exist in this format. Most of the paintings oscillate between a maudlin naiveté and a serious, desperate search for something in painting that is worth renewing.

A native of Antlers, Oklahoma, Rachel earned her Master of Fine Art Degree in Drawing and Painting at the University of New Orleans in 2008. Rachel has shown her work nationally and internationally, and in 2009 she was invited to mount a solo exhibition at the New Orleans Museum of Art. Her work is part of that museum's permanent collection, as well as many other private collections. Rachel's work has been reviewed in national publications, including ArtForum, Art Papers, the New Orleans Art Review, and TimeOut Chicago. In 2008 Rachel also co-founded The Front, a gallery in New Orleans that is a cornerstone of the St Claude arts district.
Dave Greber and Sophia Belkin
The Indigo Light appears as an oasis. Although it generally arrives in moments characterized by a genuine desire for realization, the participants spiritual level will ultimately dictate their ability to cross its threshold. Those above a 50% level are drawn into the light through a path of immense spiritual merits or very little ego. They not only see the light, but are able to enter it entirely. Those at a lower levels may experience the glow only in the moment of departure from their earthly body. Glimpses of this light can be seen often on the back or front porch depending on region, season, and culture.
This enticing Siren of Singularity is, in actuality, a doorway. As one approaches the threshold, one will encounter the "fortunate-ones." Although repulsive, they normally have a happy and blissful disposition. Their peaceful nature features 34% less moaning and writhing, as compared to the leading transitional beings. Their neuronic pulses release vital energy which the environment is purified via Bliss particles, emitted through their laughter. Dancing, dying, these beings are comfortably suspended in a dimension where life and death have ceased to be binary. So Welcome! So Welcome as to participate in the mission of the establishment of this new realm.
The central feature of this work is a projection-mapped textile that resembles an insect-killing ("bug-zapper") lantern surrounded by an assortment of dying insects. Beneath the lantern, the floor of the gallery is littered with abstracted bugs made of various local found materials attached to small motors that pulsate and vibrate sporadically, mimicking the movements of a dying insect. We use video projection-mapping and sound elements to illuminate the insects on the ground and create the iconic electric blue pillar that attracts and systematically electrocutes them.
Dave Greber was a member of the Front from 2009-2014. He studied at Temple University, Universiteit van Amsterdam, and Tulane University. His work has been recently featured at The Whitney, Crystal Bridges, Minneapolis Institute of Art, Telfair Musuem, Arthur Roger Gallery, Parse and the May Gallery. His work has been covered by Art in America, Artforum, Hyperallergic, DailyServing, Pelican Bomb. Recently, he thru-hiked the Appalachian Trail, created metaphysically-healing videos in Taos, New Mexico, opened a portal to lost Troll intelligence in Norway, and managed Audio/Visual installation for the Prospect.4 Triennial.
Sophia Belkin was born in Moscow, Russia and currently lives and works in Baltimore, Maryland. She earned her BFA in drawing and printmaking from the Maryland Institute College of Art in 2012. Recent shows include Stone Belly Dweller, a solo presentation at Wildflower Baltimore, the inaugural exhibition at Campsite Gallery in Swannanoa, North Carolina, and Silos, Windmills, and Graveyards at High Tide Gallery in Philadelphia. Sophia is a cofounder and designer of Web Web World, a clothing line of one-of-a-kind, embroidered vintage garments.
Jenny LeBlanc
Jenny LeBlanc builds forms that marry a physical object with an event, performance, moment, or activity to document her personal experience in a tangible way. Her sculptures usually take the form of common objects that people very ordinarily encounter.
For more information on her work, please visit www.hotironpress.com/jennyleblanc.htm
Born in Marrero, LA, Jenny LeBlanc makes work where performance, drawing, printmaking, and sculpture converge. With frequent collaborator Kyle Bravo, she has run the art studio Hot Iron Press since 2002, and currently teaches sculpture at the New Orleans Center for Creative Arts (NOCCA). She was a founding member of The Front, and has exhibited work throughout the US and also in Canada, Italy, and Japan. She holds degrees from the Alabama School of Fine Arts, Louisiana State University (BFA in sculpture), and Virginia Commonwealth University (MFA in sculpture).
Stephanie Patton
Humor plays an important role in my work. I often use it as a device to bring attention to more critical issues. Issues and elements that remain constant in my work are an exploration of mental and physical health, themes of healing, comfort and self-preservation. As a multi-media artist I use materials and processes that personally speak to my conceptual concerns and often allude to various emotional states.
The works in this exhibition are made of materials that I have been exploring for over a decade. Mattress quilting can suggest ideas related to birth, death, intimacy, relationships, illness and rest. Coupled with words or phrases which often have multiple meanings, the quilted fabric is meant to bring a humorous yet poignant conceptual message to the viewer. I also use vinyl in my sculptural relief work for its physical properties as well as for its inherent references to mental and physical health and protection. I construct these pieces with my industrial sewing machine as well as a combination of hand sewing, stuffing and stapling.
Born in New Orleans, LA, Stephanie Patton is a multi–media artist whose work crosses the realms of sculpture, painting, photography, installation, performance, video, audio and text. She received a Bachelor of Fine Arts degree in Painting from the University of Louisiana in Lafayette and a Master of Fine Arts degree in Photography from The School of the Art Institute of Chicago. She has studied various types of vocal and comedic performance in New York through The New School, Upright Citizens Brigade and Gotham Writers Workshop. She is currently the producer and host (as the character Renella Rose Champagne) of Lost in Love on KRVS 88.7FM.
Stephanie has shown her work nationally and internationally including shows at the Bronx Museum of the Arts, Elizabeth Houston Gallery and Voltz Clarke Gallery in New York; the Ogden Museum of Southern Art, Louisiana ArtWorks, the Contemporary Art Center and Arthur Roger Gallery in New Orleans, LA; and Galerie Patricia Dorfmann in Paris, France. She is represented by Arthur Roger Gallery in New Orleans and Voltz Clarke Gallery in New York City. She is also a founding member of The Front, an artist's collective, in New Orleans, LA. Her work is often humorous in nature and frequently investigates aspects of human emotion.
Brooke Pickett
The scale of the work is often monumental, and at times overpowering. My process begins with the gathering of ready-made and often broken objects such as fans, pieces of fabric, houseplants, old mattresses, and electrical cords which I arrange and photograph. These temporary 'portraits' are then abstracted and memorialized in my paintings. Though the poetic interrogation of objects is manufactured to be short-lived, my hope is that it captures the fragility of life and the human spirit.
Born in Shreveport, Louisiana in 1980, Brooke Pickett is an artist currently living and working in New Orleans. Pickett earned a M.F.A. in Painting from the University of Albany, State University of New York in 2005 and a B.A. in both Painting and Literature from the Louisiana State University, Baton Rouge in 2002. She was an artist in residence at Hotel Pupik, Schrattenberg, Austria in 2009 and at the Virginia Center for Creative Arts in 2007. From 2008-2010, Pickett was a Visiting Assistant Professor of Painting at Middlebury College in Middlebury, Vermont. She has been included in numerous solo and group exhibitions both nationally and internationally, most recently at BravinLee Programs in New York City. She is also the founder and director of Central City Artist Project, a non-profit residency program in New Orleans that created opportunities for artists to produce work informed by the community and its residents.
Pickett's work is included in numerous private and public collections, including a recent acquisition by the New Orleans Museum of Art.
John Isiah Walton
Perfect Plex is a representation of Mr. Perfect executing a fisherman suplex to "Perfection."

Born in New Orleans, John Isiah Walton is a recent member of The Front, a co-founding member of Level artist collective, and former co-founding member of Second Story Gallery. He has shown in New York, Austin, TX, Los Angeles, North Carolina & Tokyo. He has lectured about his work to the graduate program at UNC, Chapel Hill.